Difference between revisions of "Main Page"
From Asylum Projects
Line 22:
Line 22:
 

| style="width:320px; text-align:center; white-space:nowrap; color:#000;" |

 

| style="width:320px; text-align:center; white-space:nowrap; color:#000;" |

 

<div style="font-size:250%; border:none; margin:0; padding:.1em; color:#000;"><b>[[Preservation Alert]]</b></div>

 

<div style="font-size:250%; border:none; margin:0; padding:.1em; color:#000;"><b>[[Preservation Alert]]</b></div>

−

<div style="font-size:125%; border:none; margin:0; padding:.1em; color:#000;">Both the [[Greystone Park State Hospital|Greystone]] and [[Athens State Hospital|Athens]] Kirkbride buildings are in danger of being partially or completely demolished. </br>Please click on the link above for more information and to see how you can help.</div>

+

<div style="font-size:125%; border:none; margin:0; padding:.1em; color:#000;">and and how you can help.</div>

 

|}

 

|}

 

</br>

 

</br>
---
Revision as of 07:41, 17 October 2015
__NOTITLE__
Welcome to Asylum Projects,

A historic asylum wiki anyone can edit.

2,192

articles and counting

We need your help!
Click here to see current and past preservation alerts and how you can help.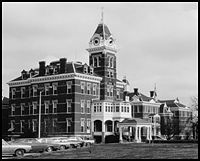 The Mission
The mission of this site is to archive both historical and current information on asylums across the United States and around the world.
The Statement
This site is dedicated to the history of asylums in all forms. The term of asylum is applied to not only what is commonly thought of: mental hospitals, but can also be applied to sanatoriums, state training schools, reform schools, almshouses, and orphanages. These institutions have and continue to play a major part in today's society.
Everyone throughout the United States and in many other countries has in one way or another felt the touch of these institutions. These places have both directly and indirectly affected people and their families. They have shaped lives and created many popular myths about them.
With all that in mind, this site was created to help in the historical research of any institutions that can be classified as an asylum. It was created for both serious researchers, those who are doing genealogical research, and people with an interest in asylums.
Featured Article Of The Week

Rhode Island State Hospital

Eighteen frame buildings were constructed in 1870, and that November 118 mental patients were admitted - 65 charity cases from Butler Asylum, 25 from town poor houses and 28 from asylums in Vermont and Massachusetts where the state had sent them. The patients at the State Asylum were poor and believed beyond help, as is reflected in the evolution of names for the asylum. Initially it was to be called the State Insane Asylum; in 1869 the Asylum for the Pauper Insane; and in 1870 the State Asylum for the Incurable Insane. In 1885, to relieve the cities and towns from the burden of supporting their insane poor, the General Assembly adopted a resolution that the State Asylum for the Insane should serve as a receiving hospital for all types of mental disorder, acute as well as chronic, thereby merging the two. By giving over the Asylum to "undesirable" elements, the poor, the incurable, and the foreign born, the upper and middle classes thus restricted their own ability to use it. Therapy was second to custody.

In 1888, the General Assembly appropriated funds for a new almshouse to replace the frame building that had been originally built for the insane. Known now as the Center Building, the Almshouse was also designed by Stone, Carpenter and Wilson. Its name acknowledges the prevailing trend in institutional design, as evidenced in the House of Correction and State Prison, as well: the installation of a large central administration building with office and residential facilities for the staff and public eating and worship spaces for the inmates who were segregated in wings flanking the central structure. In this case, the wings housed 150 men and 150 women and includes an additional wing, the children's "cottage" for sixty children. Opened in 1890, the three-and a half story stone building stands as a series of long buildings running north-south and interrupted regularly by octagonal stair towers. Its handsome stone work and red-brick trim and its site behind copper beach trees on a bluff overlooking Pontiac Avenue make the Center Building one of the most visually striking structures in Rhode Island. Click here for more...

Featured Image Of The Week

The

Dexter Asylum

served as an institution for the care of the poor, aged and mentally ill of Providence from 1828 to 1957. The Asylum began through a bequest in the will of Ebenezer Knight Dexter (1773-1824), a wealthy citizen who had served on a town committee for poor relief. Dexter's gift to the town, though much needed at the time, later was seen as an anachronism--a walled and isolated "poor farm" in the midst of Providence's residential east side. Beginning in the 1920's, city officials, developers and assorted heirs made several attempts to change the conditions of the will, and in 1957, they finally succeeded. The Dexter Asylum property was sold to Brown University.

Recent Message Board Posts

Hello,

In this space you normally would see our forum. This had been a hold over from earlier days before we had a Facebook page. Just prior to our server issues regular users had been barely using the forum with the majority of new posts from anonymous users asking genealogy questions or spammers. The old forum software does not work with our new version while the new forum software does not carry over old comments to the new forum. As a result, the forum will be discontinued in favor of our Facebook page. If you have questions or comments you can ask them there.

Asylum Projects Facebook Page
If you have genealogical question here is an information page to help you.

The following short video, created by the New York Times and Kassie Bracken, documents the cemetery and history of Willard State Hospital.
<calendar name="Upcoming Events" disablestyles disableaddevent/>
Asylum News   (news you can edit!)