Difference between revisions of "Main Page"
From Asylum Projects
---
Revision as of 10:40, 22 July 2017
__NOTITLE__
Welcome to Asylum Projects,

A historic asylum wiki anyone can edit.

2,192

articles and counting

We need your help!
Click here to see current and past preservation alerts and how you can help.
Mission Statement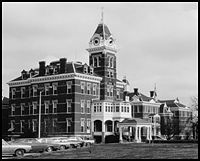 The Mission
The mission of this site is to archive both historical and current information on asylums across the United States and around the world.
The Statement
This site is dedicated to the history of asylums in all forms. The term of asylum is applied to not only what is commonly thought of: mental hospitals, but can also be applied to sanatoriums, state training schools, reform schools, almshouses, and orphanages. These institutions have and continue to play a major part in today's society.
Everyone throughout the United States and in many other countries has in one way or another felt the touch of these institutions. These places have both directly and indirectly affected people and their families. They have shaped lives and created many popular myths about them.
With all that in mind, this site was created to help in the historical research of any institutions that can be classified as an asylum. It was created for both serious researchers, those who are doing genealogical research, and people with an interest in asylums.
Featured Article Of The Week

Tarban Creek Lunatic Asylum

On 13 January 1835 Governor Bourke sent a despatch to Britain stating "A lunatic asylum is an Establishment that can no longer be dispensed with. In this Colony, the use of ardent spirits induces the disease called delirium tremens, which frequently terminates in confirmed lunacy. The present asylum is a wretched hired Building without outlet of any kind." In his reply dated 3 August 1835, Lord Glenelg conveyed the British Government's authorisation for expenditure of NSW Colonial government funds for this project.

On 24 April 1837 Governor Bourke reported that the new asylum was approaching completion, and since he considered it impossible to find persons qualified for its superintendence in NSW, he requested that a married couple be engaged and sent out from England as Keeper and Matron. The new Superintendent and Matron, Mr and Mrs Digby, took up residence at Tarban Creek Lunatic Asylum on 18 August 1838, with the first patients transferred from Liverpool Asylum and the Female Factory, Parramatta, arriving on 19 November 1838.

Following the recommendations of the Select Committee on the Lunatic Asylum in 1846, changes to administration, staffing, and record keeping occurred. Of major concern was the perceived lack of expert medical direction, resulting in the appointment on 1 January 1848 of a medical superintendent, Dr Francis Campbell, to administer the institution. Click here for more...

Featured Image Of The Week

The Colonial Government

bought the whole 104.5 acres as a site for a new lunatic asylum to be designed according to the enlightened views of the American Dr Thomas Kirkbride. Colonial Architect James Barnett worked in collaboration with Inspector of the Insane Dr Frederick Norton Manning to produce a group of some twenty neo-classical buildings, completed in 1885 and subsequently named the Kirkbride Block, offering progressive patient care.

Recent Message Board Posts

Hello,

In this space you normally would see our forum. This had been a hold over from earlier days before we had a Facebook page. Just prior to our server issues regular users had been barely using the forum with the majority of new posts from anonymous users asking genealogy questions or spammers. The old forum software does not work with our new version while the new forum software does not carry over old comments to the new forum. As a result, the forum will be discontinued in favor of our Facebook page. If you have questions or comments you can ask them there.

Asylum Projects Facebook Page
If you have genealogical question here is an information page to help you.

Featured Video

The following film was found at Wayne County Training School in the 1990's by a Canton High School Student. It was digitized by the Northville Historic Commission and uploaded to Youtube by Northville Tunnels.