Difference between revisions of "Main Page"
From Asylum Projects
---
Revision as of 04:44, 28 January 2011
__NOTITLE__
Welcome to Asylum Projects,

A historic asylum wiki anyone can edit.

2,334

articles and counting

We need your help!
Mission Statement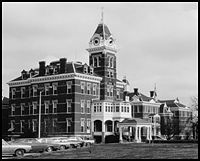 The Mission
The mission of this site is to archive both historical and current information on asylums across the United States and around the world.
The Statement
This site is dedicated to the history of asylums in all forms. The term of asylum is applied to not only what is commonly thought of: mental hospitals, but can also be applied to sanatoriums, state training schools, reform schools, almshouses, and orphanages. These institutions have and continue to play a major part in today's society.
Everyone throughout the United States and in many other countries has in one way or another felt the touch of these institutions. These places have both directly and indirectly affected people and their families. They have shaped lives and created many popular myths about them.
With all that in mind, this site was created to help in the historical research of any institutions that can be classified as an asylum. It was created for both serious researchers, those who are doing genealogical research, and people with an interest in asylums.
Featured Article Of The Week

Manhattan Psychiatric Center

In 1871 when the new branch of the New York City Insane Asylum opened Ward's Island already was home to the Verplank State Emigrant Hospital, on the north eastern side, as well was the New York City Inebriate Asylum on the Southwestern part of the island, just below the new Insane Asylum. The new hospital building was built constructed of brick and Ohio free-state in the English Gothic Style with a Mansard roof. It was built in the Kirkbride style, with a three story central building with wings staggered back en echelon on either side. The cost of this structure was $700,000, and its overall frontage was 475 feet, with accommodation for 500 patients.

Upon opening the Ward's Island Asylum became the Male Department of the New York City Insane Asylum system, and it operated independently from the original Asylum, now the Female Department, on Blackwell's Island. Immediately all male patients were shipped up river to this new building. Regrettably this new hospital was no real improvement and suffered from many defects. The eating and lighting proved to be inadequate, the furniture was crude and many patients did not even have eating utensils to use at meal time. The nurse to patient ratio was one to 30 while the physicians proved inexperienced, only serving at the Asylum until they had enough experience to move on. Attendants proved similarly inadequate, as did treatment of patients, with many being locked in their rooms. The patients often were mingled with no regard to disease annd with no treatment. On top of this it was almost immediately the hospital found itself again overcrowded and looking for more space. Click here for more...

Featured Image Of The Week

The

Blackwell's island Asylum

was the first lunatic asylum for the city of New York and the first municipal mental hospital in the country. The institution was the first in what later became a larger system of New York City Asylums which was comprised of hospitals on Blackwell's, Ward's, and more briefly Hart's and Randall's Islands in New York City.

Recent Message Board Posts

Hello,

In this space you normally would see our forum. This had been a hold over from earlier days before we had a Facebook page. Just prior to our server issues regular users had been barely using the forum with the majority of new posts from anonymous users asking genealogy questions or spammers. The old forum software does not work with our new version while the new forum software does not carry over old comments to the new forum. As a result, the forum will be discontinued in favor of our Facebook page. If you have questions or comments you can ask them there.

Asylum Projects Facebook Page
If you have genealogical question here is an information page to help you.

Upcoming Events Calendar

<calendar name="Upcoming Events" disablestyles disableaddevent/>
Featured Video
The following is a video documentary about the closing of Kings Park State Hospital that was created and uploaded to YouTube by the Kings Park Historical Society.
Asylum News   (news you can edit!)