Difference between revisions of "Main Page"
From Asylum Projects
Line 22:
Line 22:
 

| style="width:320px; text-align:center; white-space:nowrap; color:#000;" |

 

| style="width:320px; text-align:center; white-space:nowrap; color:#000;" |

 

<div style="font-size:250%; border:none; margin:0; padding:.1em; color:#000;"><b>[[Preservation Alert]]</b></div>

 

<div style="font-size:250%; border:none; margin:0; padding:.1em; color:#000;"><b>[[Preservation Alert]]</b></div>

−

<div style="font-size:125%; border:none; margin:0; padding:.1em; color:#000;">Both the [[Greystone Park State Hospital|Greystone]] and [[Athens State Hospital|Athens]] Kirkbride buildings are in danger of being partially or completely demolished. </br>Please click on the link above for more information and to see how you can help.</div>

+

<div style="font-size:125%; border:none; margin:0; padding:.1em; color:#000;">and and how you can help.</div>

 

|}

 

|}

 

</br>

 

</br>
---
Revision as of 08:41, 17 October 2015
__NOTITLE__
Welcome to Asylum Projects,

A historic asylum wiki anyone can edit.

2,187

articles and counting

We need your help!
Click here to see current and past preservation alerts and how you can help.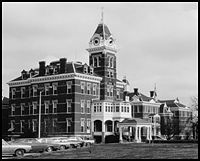 The Mission
The mission of this site is to archive both historical and current information on asylums across the United States and around the world.
The Statement
This site is dedicated to the history of asylums in all forms. The term of asylum is applied to not only what is commonly thought of: mental hospitals, but can also be applied to sanatoriums, state training schools, reform schools, almshouses, and orphanages. These institutions have and continue to play a major part in today's society.
Everyone throughout the United States and in many other countries has in one way or another felt the touch of these institutions. These places have both directly and indirectly affected people and their families. They have shaped lives and created many popular myths about them.
With all that in mind, this site was created to help in the historical research of any institutions that can be classified as an asylum. It was created for both serious researchers, those who are doing genealogical research, and people with an interest in asylums.
Featured Article Of The Week

Binghamton State Hospital

Built in 1858, the castle originally served as the country's first inebriate asylum. Founder J. Edward Turner belonged to a school of thought that alcoholism wasn't just a vice, but could be cured medically. The well-lit rooms and extensive grounds are an important marker in New York State's view of addiction. The asylum was the first of its kind in the country, but only served its original purpose for 15 years, at which point Turner's inebriate asylum was converted into a hospital for the chronically insane. The asylum faced financial woes for a decade after a great fire broke out in March 1870. Gov. Lucius Robinson deemed it a "complete failure" in 1879, suggesting that the asylum be closed down and renovated to house the insane. In 1881, its doors were reopened as the Binghamton Asylum for the Chronic Insane, later renamed the Binghamton State Hospital. Hundreds of patients were transferred to Binghamton from Utica, Poughkeepsie and Middletown; those patients lived, suffered and died in the palatial asylum. Treatment methods only worsened with the turn of the century.

In 1942, the hospital instituted electric shock therapy, hydrotherapy and later lobotomy as methods of treatment for the mentally ill. These "treatments" were nothing short of brutally inhumane. Patients were restrained in wet canvas for up to six hours at a time and forced into seizures by means of electric shock. The worst and most terrifying of these treatments was the prefrontal lobotomy, a form of psychosurgery that involved scrambling the frontal lobe of the brain with a sharp metal instrument inserted through the upper eye socket. Click here for more...

Featured Image Of The Week

By 1900,

the Poor House, now known as County Home

, no longer had to care for the blind, those with mental illness or for children. But it faced a growing number of occupants, especially as Syracuse's population soared toward 20,000. And there were always sick, frail and even pregnant residents. Various rooms were designated over time as infirmary wards but always proved deficient. Pressed by local physicians and the state, the country finally relented and erected a 60-bed hospital for the site in 1900. It marked a key transformation in the history of "The Home" and of local public care for the indigent.

Recent Message Board Posts

Hello,

In this space you normally would see our forum. This had been a hold over from earlier days before we had a Facebook page. Just prior to our server issues regular users had been barely using the forum with the majority of new posts from anonymous users asking genealogy questions or spammers. The old forum software does not work with our new version while the new forum software does not carry over old comments to the new forum. As a result, the forum will be discontinued in favor of our Facebook page. If you have questions or comments you can ask them there.

Asylum Projects Facebook Page
If you have genealogical question here is an information page to help you.
<calendar name="Upcoming Events" disablestyles disableaddevent/>
Asylum News   (news you can edit!)