Difference between revisions of "Main Page"
From Asylum Projects
---
Revision as of 03:44, 28 January 2011
__NOTITLE__
Welcome to Asylum Projects,

A historic asylum wiki anyone can edit.

2,336

articles and counting

We need your help!
Mission Statement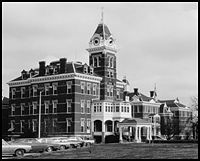 The Mission
The mission of this site is to archive both historical and current information on asylums across the United States and around the world.
The Statement
This site is dedicated to the history of asylums in all forms. The term of asylum is applied to not only what is commonly thought of: mental hospitals, but can also be applied to sanatoriums, state training schools, reform schools, almshouses, and orphanages. These institutions have and continue to play a major part in today's society.
Everyone throughout the United States and in many other countries has in one way or another felt the touch of these institutions. These places have both directly and indirectly affected people and their families. They have shaped lives and created many popular myths about them.
With all that in mind, this site was created to help in the historical research of any institutions that can be classified as an asylum. It was created for both serious researchers, those who are doing genealogical research, and people with an interest in asylums.
Featured Article Of The Week

Broughton Hospital

In 1850, Dorothea Dix persuaded the General Assembly to appropriate money for a state-run psychiatric hospital in Raleigh. By 1875, an estimated 700 North Carolinians were classified as "insane" and not receiving proper care. One hospital thus proved insufficient to meet the needs of the State's mentally ill. Therefore, on March 20, 1875, the General Assembly voted to provide $75,000 to establish a second state hospital. Four western North Carolina cities, Statesville, Hickory, Asheville, and Morganton, competed to become the home for the institution that was to be known in its early years as the Western North Carolina Insane Asylum. Morganton was selected.

Gifts and purchases resulted in 263 acres being acquired by the State in 1875. Work began almost immediately. As an economy measure, 50 convicts were released from penitentiaries and brought to Morganton to help make bricks for the hospital's first building. The brick contractor was responsible for the feeding, safekeeping, and return of the convicts. Realizing that the building under construction would not provide adequate space and due to insufficient funding to expand its size, the General Assembly appropriated an additional $60,000 in 1877 for another wing. Five years later, in December 1882, the Avery Building and its south wing were completed. Dr. Patrick Livingston Murphy was hired as the first superintendent, a position in which he served for 25 years. Click here for more...

Featured Image Of The Week

In 1851, the first commissioners of the

"Insane Hospital of North Carolina"

reported to the legislature: "They selected a site for the said building and after carefully examining the whole country in the vicinity of Raleigh, they chose a location west of the city and about one mile distant, on a hill near Rocky Branch to provide a water supply. This location has a commanding view of the city and is believed to be perfectly healthy."

Recent Message Board Posts

Hello,

In this space you normally would see our forum. This had been a hold over from earlier days before we had a Facebook page. Just prior to our server issues regular users had been barely using the forum with the majority of new posts from anonymous users asking genealogy questions or spammers. The old forum software does not work with our new version while the new forum software does not carry over old comments to the new forum. As a result, the forum will be discontinued in favor of our Facebook page. If you have questions or comments you can ask them there.

Asylum Projects Facebook Page
If you have genealogical question here is an information page to help you.

Upcoming Events Calendar

<calendar name="Upcoming Events" disablestyles disableaddevent/>
Featured Video
The following seventeen-minute video is a well-researched history tour of the Tarban Creek Lunatic Asylum by ShhSydney Urbex Adventures.
Asylum News   (news you can edit!)