Difference between revisions of "Main Page"
From Asylum Projects
Line 22:
Line 22:
 

| style="width:320px; text-align:center; white-space:nowrap; color:#000;" |

 

| style="width:320px; text-align:center; white-space:nowrap; color:#000;" |

 

<div style="font-size:250%; border:none; margin:0; padding:.1em; color:#000;"><b>[[Preservation Alert]]</b></div>

 

<div style="font-size:250%; border:none; margin:0; padding:.1em; color:#000;"><b>[[Preservation Alert]]</b></div>

−

<div style="font-size:125%; border:none; margin:0; padding:.1em; color:#000;">Both the [[Greystone Park State Hospital|Greystone]] and [[Athens State Hospital|Athens]] Kirkbride buildings are in danger of being partially or completely demolished. </br>Please click on the link above for more information and to see how you can help.</div>

+

<div style="font-size:125%; border:none; margin:0; padding:.1em; color:#000;">and and how you can help.</div>

 

|}

 

|}

 

</br>

 

</br>
---
Revision as of 07:41, 17 October 2015
__NOTITLE__
Welcome to Asylum Projects,

A historic asylum wiki anyone can edit.

2,338

articles and counting

We need your help!
Click here to see current and past preservation alerts and how you can help.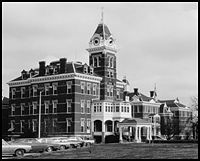 The Mission
The mission of this site is to archive both historical and current information on asylums across the United States and around the world.
The Statement
This site is dedicated to the history of asylums in all forms. The term of asylum is applied to not only what is commonly thought of: mental hospitals, but can also be applied to sanatoriums, state training schools, reform schools, almshouses, and orphanages. These institutions have and continue to play a major part in today's society.
Everyone throughout the United States and in many other countries has in one way or another felt the touch of these institutions. These places have both directly and indirectly affected people and their families. They have shaped lives and created many popular myths about them.
With all that in mind, this site was created to help in the historical research of any institutions that can be classified as an asylum. It was created for both serious researchers, those who are doing genealogical research, and people with an interest in asylums.
Featured Article Of The Week

Gallinger Municipal Hospital Psychopathic Ward

The old psychiatric ward at Gallinger Hospital was built in response to national reform trends, but construction was also spurred on by the dire need for mental health care facilities in the District of Columbia. In the first two decades of the twentieth century, St. Elizabeth and the Washington Asylum Hospitals were the only institutions in the city that cared for the mentally ill.

After the old almshouse, erected in 1847, was vacated in 1907 with the opening of the Blue Plains facility, it was used as a ward for the mentally ill. Conditions there were considered deplorable. The entire facility was often characterized as dilapidated and in 1916 became the subject of a newspaper expose decrying the squalid conditions as a "disgrace to the capital." In spite of this reform fervor, construction was delayed on the hospital by the political squabble over the hospital's site and the onset of World War I.

The Galiinger Municipal Hospital Psychopathic Ward was built between 1920 and 1922. The structure is an important example of a period and typical of psychiatric hospital design, and it also reflects the success of the U.S. Commission of Fine Arts policy in implementing a uniform classical architectural expression for the District's public buildings after its formation in 1910. Designed in 1919 by Municipal Architect Snowden Ashford (1866- 1927), the hospital ward was constructed by local contractor George H. Wynne at a cost of $766,200. Upon completion in 1923 the facility gamed immediate notice for its efficient Colonial Revival design and was featured in the influential health care journal Modern Hospital in 1924. it was also illustrated and described in a standard text on hospital planning, The American Hospital of the Twentieth Century (1926). The building group epitomized the "home-like" pavilion ward believed to be the best architectural solution for the general hospital's treatment of short-term psychiatric patients during the 1920s. Click here for more...

Featured Image Of The Week

The

original main building

was built from brick made on the place, and in architectural style is a modification of the Kirkbride plan, each wing receding for the center, in echelon. The building itself is in the collegiate Gothic style. This main building was several years in building and wings were added to it from time to time. Other construction, however, was undertaken in the meant time, and shortly after the opening of the hospital, during fiscal year 1855-6, a building was opened for the colored insane, which the superintendent state in his report he believed to be the "first and only special provision for the suitable care of the African when afflicted with insanity which has yet been made in any part of the world."

Recent Message Board Posts

Hello,

In this space you normally would see our forum. This had been a hold over from earlier days before we had a Facebook page. Just prior to our server issues regular users had been barely using the forum with the majority of new posts from anonymous users asking genealogy questions or spammers. The old forum software does not work with our new version while the new forum software does not carry over old comments to the new forum. As a result, the forum will be discontinued in favor of our Facebook page. If you have questions or comments you can ask them there.

Asylum Projects Facebook Page
If you have genealogical question here is an information page to help you.

This 1968 black-and-white documentary about the Plymouth State Home and Training School in Northville, Michigan. Produced by Dan Weisburd, the U.S. Rehabilitation Services Administration, narrated by Lorne Greene and nominated for an Academy Award for Best Documentary Short. It was uploaded to Youtube by Northville Tunnels.
<calendar name="Upcoming Events" disablestyles disableaddevent/>
Asylum News   (news you can edit!)