Difference between revisions of "Main Page"
From Asylum Projects
Line 22:
Line 22:
 

| style="width:320px; text-align:center; white-space:nowrap; color:#000;" |

 

| style="width:320px; text-align:center; white-space:nowrap; color:#000;" |

 

<div style="font-size:250%; border:none; margin:0; padding:.1em; color:#000;"><b>[[Preservation Alert]]</b></div>

 

<div style="font-size:250%; border:none; margin:0; padding:.1em; color:#000;"><b>[[Preservation Alert]]</b></div>

−

<div style="font-size:125%; border:none; margin:0; padding:.1em; color:#000;">Both the [[Greystone Park State Hospital|Greystone]] and [[Athens State Hospital|Athens]] Kirkbride buildings are in danger of being partially or completely demolished. </br>Please click on the link above for more information and to see how you can help.</div>

+

<div style="font-size:125%; border:none; margin:0; padding:.1em; color:#000;">and and how you can help.</div>

 

|}

 

|}

 

</br>

 

</br>
---
Revision as of 08:41, 17 October 2015
__NOTITLE__
Welcome to Asylum Projects,

A historic asylum wiki anyone can edit.

2,121

articles and counting

We need your help!
Click here to see current and past preservation alerts and how you can help.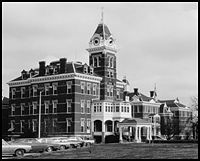 The Mission
The mission of this site is to archive both historical and current information on asylums across the United States and around the world.
The Statement
This site is dedicated to the history of asylums in all forms. The term of asylum is applied to not only what is commonly thought of: mental hospitals, but can also be applied to sanatoriums, state training schools, reform schools, almshouses, and orphanages. These institutions have and continue to play a major part in today's society.
Everyone throughout the United States and in many other countries has in one way or another felt the touch of these institutions. These places have both directly and indirectly affected people and their families. They have shaped lives and created many popular myths about them.
With all that in mind, this site was created to help in the historical research of any institutions that can be classified as an asylum. It was created for both serious researchers, those who are doing genealogical research, and people with an interest in asylums.
Featured Article Of The Week

Toledo State Hospital

Designed by prominent Toledo architect, Edward O. Fallis, the Toledo Asylum for the Insane opened for occupancy in 1888, with Dr. Henry A. Tobey as superintendent. It was built on 150 acres of land located at the corner of Arlington and Detroit Avenues, and its design was based upon the cottage model which was a revolutionary concept at the time. There were thirty four buildings, twenty of which were pavilions or "cottages" that housed the "less extreme cases" of insane individuals, while six buildings--two infirm wards, two hospitals, and two strong wards--housed those considered more "critically insane" or "incurable." The grounds also featured man-made lagoons, an administration building, a farm, an auditorium, a greenhouse, and a chapel. The maximum capacity of the entire project could house 1,800 patients.

The "cottage system," as it became known, was conceived by General Roeliff Brinkerhoff, the founder of the Ohio State Archeological and Historical Society, who believed in abolishing the use of mechanical restraints in the treatment of the insane, and housing them in cottages to allow them the feelings of self-worth and independence while under the care of the state. The Mission Statement and Philosophy of the Asylum read, "To many the subject of caring for the insane is…a mystery. The secret of their care and keeping them contented is to have them lead as normal a life as possible, with good clean, healthy surroundings, plenty of nourishing food, and fresh air." The Asylum began moving patients off of the property in the early 1970s, and the buildings were destroyed in the early 1990s. Northwest Ohio Psychiatirc Hospital (NOPH), located on the same site, is the current treatment center and psychiatric hospital in Toledo and is owned and operated by the state of Ohio. Click here for more...

Featured Image Of The Week

This tract fronted south on what is now East Broad street

, and the western boundary was near what is now Washington avenue. During the next three years they erected a building on these grounds, at a cost of about sixty-one thousand ($61,000) dollars. The institution accommodated one hundred and twenty patients, and was the first institution for the treatment of the insane organized west of the Alleghenies. On May 21, 1838, William M. Awl, M. D., of Columbus, was elected Medical Superintendent by the Trustees, and the first patient was received on November 30 of that year.

Recent Message Board Posts

Hello,

In this space you normally would see our forum. This had been a hold over from earlier days before we had a Facebook page. Just prior to our server issues regular users had been barely using the forum with the majority of new posts from anonymous users asking genealogy questions or spammers. The old forum software does not work with our new version while the new forum software does not carry over old comments to the new forum. As a result, the forum will be discontinued in favor of our Facebook page. If you have questions or comments you can ask them there.

Asylum Projects Facebook Page
If you have genealogical question here is an information page to help you.

The following hour and eighteen minute long video was shot in 1992 during the closing of Danvers State Hospital. The state was trying to sell the property for reuse as soon as possible after the hospital closure. This was a tour of prospective buyers and was conducted both through the closed sections and, at that time, still operating sections.
<calendar name="Upcoming Events" disablestyles disableaddevent/>
Asylum News   (news you can edit!)