Difference between revisions of "Main Page"
From Asylum Projects
---
Revision as of 04:46, 28 January 2011
__NOTITLE__
Welcome to Asylum Projects,

A historic asylum wiki anyone can edit.

2,334

articles and counting

We need your help!
Mission Statement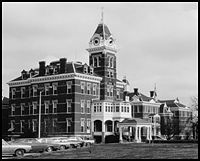 The Mission
The mission of this site is to archive both historical and current information on asylums across the United States and around the world.
The Statement
This site is dedicated to the history of asylums in all forms. The term of asylum is applied to not only what is commonly thought of: mental hospitals, but can also be applied to sanatoriums, state training schools, reform schools, almshouses, and orphanages. These institutions have and continue to play a major part in today's society.
Everyone throughout the United States and in many other countries has in one way or another felt the touch of these institutions. These places have both directly and indirectly affected people and their families. They have shaped lives and created many popular myths about them.
With all that in mind, this site was created to help in the historical research of any institutions that can be classified as an asylum. It was created for both serious researchers, those who are doing genealogical research, and people with an interest in asylums.
Featured Article Of The Week

Westborough State Hospital

The Brigham Farm, later the Peter Farm, was purchased in 1846 for the State Reform School, later the State Hospital (1885). The Westborough State Hospital was established by Chapter 322 of the Acts of 1884 as the Westborough Insane Hospital. In a major departure from other state hospitals, its trustees were not directed to find a new site and make plans for new buildings, but rather to develop a scheme to reuse the structures recently vacated by the State Reform School for Boys. The site, which by then totaled 275 acres, had been developed around the 180-acre former farmstead of Lovett Peters, Esq., and adjacent acreage owned by the Rice family.

George Clough of Boston was engaged to remodel the building which had housed 400-500 boys and had been declared unfit for reform school purposes due to its large size and jail-like appearance. To adapt the building for occupancy by 325 "insane" patients, Clough demolished the center of the existing building, which dated from 1876, and replaced it with a gambrel roof section housing a congregate dining room on its first floor with a chapel above. The alterations began on May 18, 1885, and were apparently complete by December 1, 1886, when a reception was held for Governor George D. Robinson. A few days later, the first 204 patients (almost all chronic cases who were able to pay for their treatment) were received from Worcester, and then Danvers, Taunton, and Northampton. In the meantime, Dr. N. Emmons Paine, formerly assistant physician at the State Homeopathic Asylum for the Insane in Middletown, New York, had been appointed Superintendent and had begun to formulate the hospital's unique program of treatment along with the Board of Trustees. Two years later, Dr. Paine was appointed as lecturer in insanity at the Boston University Medical School. Click here for more...

Featured Image Of The Week

The

Rutland State Sanatorium

was established in 1895 by an act of the Massachusetts State Legislature and opened in 1898. Originally called the Massachusetts Hospital for Consumptive and Tubercular Patients, it was the first state institution of its kind in the nation.

Recent Message Board Posts

Hello,

In this space you normally would see our forum. This had been a hold over from earlier days before we had a Facebook page. Just prior to our server issues regular users had been barely using the forum with the majority of new posts from anonymous users asking genealogy questions or spammers. The old forum software does not work with our new version while the new forum software does not carry over old comments to the new forum. As a result, the forum will be discontinued in favor of our Facebook page. If you have questions or comments you can ask them there.

Asylum Projects Facebook Page
If you have genealogical question here is an information page to help you.

Upcoming Events Calendar

<calendar name="Upcoming Events" disablestyles disableaddevent/>
Featured Video
Let There Be Light was a 1946 American documentary film directed by John Huston. This documentary film follows 75 U.S. soldiers who have sustained debilitating emotional trauma and depression. A series of scenes chronicle their entry into a psychiatric hospital, their treatment and eventual recovery. Much of the filming was shot at Edgewood State Hospital.
Asylum News   (news you can edit!)