Main Page
From Asylum Projects
__NOTITLE__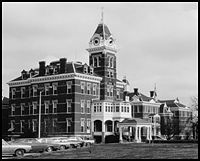 The Mission
The mission of this site is to archive both historical and current information on asylums across the United States and around the world.
The Statement
This site is dedicated to the history of asylums in all forms. The term of asylum is applied to not only what is commonly thought of: mental hospitals, but can also be applied to sanatoriums, state training schools, reform schools, almshouses, and orphanages. These institutions have and continue to play a major part in today's society.
Everyone throughout the United States and in many other countries has in one way or another felt the touch of these institutions. These places have both directly and indirectly affected people and their families. They have shaped lives and created many popular myths about them.
With all that in mind, this site was created to help in the historical research of any institutions that can be classified as an asylum. It was created for both serious researchers, those who are doing genealogical research, and people with an interest in asylums.
Featured Article Of The Week

Harrisburg State Hospital

The establishment of a hospital for the relief of the insane poor of the state claimed the attention of the philanthropic at an early date. The first movement was made by the citizens of Philadelphia, who adopted a memorial which they presented to the Legislature at the session of 1838-39. A bill authorizing the erection of a state lunatic hospital was prepared and passed both houses, but did not receive the sanction of the Governor. Subsequently an act was passed March 4, 1841, authorizing the Governor to appoint three commissioners to select a site and superintend a suitable building for the purpose. The spot selected was on the Schuylkill River, two miles from Gray's Ferry, below Philadelphia. Preparations were made for commencing the erection of the building, when operations were suspended.

The subject was not permitted to rest, but was kept before the public until, in 1844, Miss Dorothea L. Dix, having visited and examined the almshouses and jails throughout the state, presented to the Legislature a memorial setting forth the condition of the insane and urging upon the members the necessity and duty of providing some means for their treatment and proper maintenance. Click here for more...

Featured Image Of The Week

The administration portion

was entirely rebuilt upon a new design and made practically fireproof. An amusement hall was added, the general kitchen, a one-story structure, connecting in the rear, and beyond this a two-story structure, the basement containing a refrigerator, bakery and employees' dining room; the second story a sewing room and general store room. This reconstruction was completed and the first woman patient was received January 23.1883

Asylum News   (news you can edit!)
For admins: This is the to do list of things that need to be done. Add things/reorganize it as you guys think of something.