Main Page
From Asylum Projects
__NOTITLE__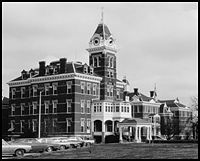 The Mission
The mission of this site is to archive both historical and current information on asylums across the United States and around the world.
The Statement
This site is dedicated to the history of asylums in all forms. The term of asylum is applied to not only what is commonly thought of: mental hospitals, but can also be applied to sanatoriums, state training schools, reform schools, almshouses, and orphanages. These institutions have and continue to play a major part in today's society.
Everyone throughout the United States and in many other countries has in one way or another felt the touch of these institutions. These places have both directly and indirectly affected people and their families. They have shaped lives and created many popular myths about them.
With all that in mind, this site was created to help in the historical research of any institutions that can be classified as an asylum. It was created for both serious researchers, those who are doing genealogical research, and people with an interest in asylums.
Featured Article Of The Week

Central State Hospital Louisville

Central State Hospital was a 192-bed adult psychiatric hospital located in eastern Louisville-Jefferson County, Kentucky. In 1869, 200 acres were purchased by the Kentucky State Legislature from the descendants of renown frontiersman Issac Hite to establish a "State House of Reform for Juvenile Delinquents." This was located on the outskirts of what would become Anchorage, Kentucky. In 1873, due to overcrowding at both of Kentucky's mental hospitals, the House of Reform was converted into the Fourth Kentucky Lunatic Asylum, with Dr. C.C. Forbes as its first Superintendent. The following year an act of the legislature renamed it the Central Kentucky Lunatic Asylum. In late 1887, it received its own post office, called simply "Asylum". The following year its name was changed to "Lakeland", and the institution was commonly referred to as "Lakeland Hospital" or "Lakeland Asylum". By 1900, its official name had been changed to the Central Kentucky Asylum for the Insane. By 1912 it was known as Central State Hospital. Comparable institutions are Eastern State Hospital at Lexington in Fayette County and Western State Hospital at Hopkinsville, Christian County, Kentucky. All three were administered by the Board of Charitable Organizations.

The secluded, rural setting was typical of such facilities in the late 19th century, as such an environment was thought to be beneficial for recovery from mental illness. However, not all patients had mental disorders - some suffered from brain damage, mental retardation or were simply poor or elderly. The early years of the 1880s were marked by repeated allegations of patient abuse. Click here for more...

Featured Image Of The Week

The Kentucky General Assembly changed the name of the hospital to

Western State Hospital

in 1919. Investigations by state officials and the Welfare Committee in the late 1930s resulted in renovations and higher standards. In 1950, 2,200 patients were admitted as "incompetent" with loss of rights. Tranquilizers came into use in 1955. By the late 1950s, several psychotropic medications were being marketed and there was a deinstitutionalization effort to weed out patients that did not need to be at the facility.

Asylum News   (news you can edit!)
For admins: This is the to do list of things that need to be done. Add things/reorganize it as you guys think of something.