Main Page
From Asylum Projects
__NOTITLE__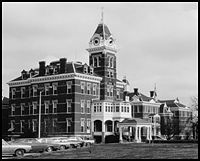 The Mission
The mission of this site is to archive both historical and current information on asylums across the United States and around the world.
The Statement
This site is dedicated to the history of asylums in all forms. The term of asylum is applied to not only what is commonly thought of: mental hospitals, but can also be applied to sanatoriums, state training schools, reform schools, almshouses, and orphanages. These institutions have and continue to play a major part in today's society.
Everyone throughout the United States and in many other countries has in one way or another felt the touch of these institutions. These places have both directly and indirectly affected people and their families. They have shaped lives and created many popular myths about them.
With all that in mind, this site was created to help in the historical research of any institutions that can be classified as an asylum. It was created for both serious researchers, those who are doing genealogical research, and people with an interest in asylums.
Featured Article Of The Week

Colorado State Hospital

The Colorado Mental Health Institute at Pueblo opened as the Colorado State Insane Asylum on October 23, 1879 on 40 acres of land in northwest Pueblo donated by George M. Chilcott, Colorado's first United States senator. On that date, 11 patients were admitted, nine males and two females from 12 different counties of the state. In 1917, the insane asylum was renamed the Colorado State Hospital. By 1923, the census the hospital climbed to 2,422 and continued to grow until 1961 when the hospital had nearly 6,000 patients. Like many state psychiatric hospitals at that time, it was a self-contained city, providing all the patients' needs within 300 acres of land on the main grounds and 5,000 acres at the dairy farm.

By 2005, however, the patient census declined to less than 450 patients, a result of the development of medications specifically for mental disorders, and a change in the philosophy and treatment of the mentally ill. The sign at the entrance still reads "Colorado State Hospital" although in 1991 the Colorado Department of Human Services psychiatric facilities names were changed to Colorado Mental Health Institute at Pueblo and Colorado Mental Health Institute at Fort Logan. Click here for more...

Featured Image Of The Week

Lookout Mountain Youth Services Center ("LMYSC")

, known to all who reside or work there as "The Hill," has served the state of Colorado as a forward thinking youth corrections program for more than a century. On February 12, 1881, Governor Pitkin enacted enabling legislation to create a humane and progressive rehabilitative school for incorrigible young men between the ages of 7 and 16.

Asylum News   (news you can edit!)
For admins: This is the to do list of things that need to be done. Add things/reorganize it as you guys think of something.