Main Page
From Asylum Projects
__NOTITLE__
Welcome to Asylum Projects,

A historic asylum wiki anyone can edit.

2,334

articles and counting

We need your help!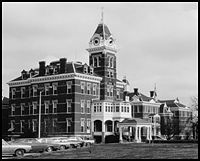 The Mission
The mission of this site is to archive both historical and current information on asylums across the United States and around the world.
The Statement
This site is dedicated to the history of asylums in all forms. The term of asylum is applied to not only what is commonly thought of: mental hospitals, but can also be applied to sanatoriums, state training schools, reform schools, almshouses, and orphanages. These institutions have and continue to play a major part in today's society.
Everyone throughout the United States and in many other countries has in one way or another felt the touch of these institutions. These places have both directly and indirectly affected people and their families. They have shaped lives and created many popular myths about them.
With all that in mind, this site was created to help in the historical research of any institutions that can be classified as an asylum. It was created for both serious researchers, those who are doing genealogical research, and people with an interest in asylums.
Featured Article Of The Week

Rockland State Hospital

Construction began in 1927 on a 600-acre rural campus, Rockland State Hospital, as it was then known, initially had 5,768 beds. With a working farm, its own power plant and industrial shops staffed by patients who manufactured everything from mattresses to brooms and furniture, Rockland was then considered among the best-planned psychiatric hospitals in the world. In 1931 the hospital opened to 60 male patients, all transfers from Manhattan State Hospital.

"The hospital fostered the idea of the therapeutic suburb," Andrea Bergbower, a sophomore social work major, said. "The thought was that it would be beneficial for these patients to leave the noise and pollution of the city for the isolation of the suburbs to bring them out of their illness." Within 10 years, Rockland's population grew exponentially, along with such attendant problems as overcrowding, disease and staff shortages.

"Much of the staff was drafted during World War II and replaced with nonqualified workers," Sara Fisher, a junior studying psychology at Marymount, said. "Beds were placed in day rooms; infections spread, and there was just one psychologist to care for each 300 patients." Click here for more...

Featured Image Of The Week

The

New York State Hospital for Incipient Pulmonary Tuberculosis

(as it was originally named), was commonly known simply as "Ray Brook." Opened in 1904, Ray Brook was the first New York State-operated tuberculosis sanatorium, and the second in the United States, after Massachusetts. After a protracted study of alternative sites, New York State chose to establish its hospital in the highly-regarded fresh air of the Adirondack Mountains, near the critical mass of tuberculosis experts in Saranac Lake.

Recent Message Board Posts

Hello,

In this space you normally would see our forum. This had been a hold over from earlier days before we had a Facebook page. Just prior to our server issues regular users had been barely using the forum with the majority of new posts from anonymous users asking genealogy questions or spammers. The old forum software does not work with our new version while the new forum software does not carry over old comments to the new forum. As a result, the forum will be discontinued in favor of our Facebook page. If you have questions or comments you can ask them there.

Asylum Projects Facebook Page
If you have genealogical question here is an information page to help you.

The following nine minute clip produced by S. Weber and entitled "Searching for the Lost Buildings of the Kings Park State Hospital" talks about the buildings that were razed on the Kings Park State Hospital campus during its operating years.
<calendar name="Upcoming Events" disablestyles disableaddevent/>
Asylum News   (news you can edit!)