Main Page
From Asylum Projects
__NOTITLE__
Welcome to Asylum Projects,

A historic asylum wiki anyone can edit.

2,072

articles and counting

We need your help!
Click here to see current and past preservation alerts and how you can help.
Mission Statement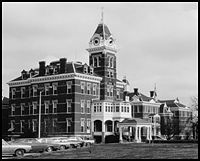 The Mission
The mission of this site is to archive both historical and current information on asylums across the United States and around the world.
The Statement
This site is dedicated to the history of asylums in all forms. The term of asylum is applied to not only what is commonly thought of: mental hospitals, but can also be applied to sanatoriums, state training schools, reform schools, almshouses, and orphanages. These institutions have and continue to play a major part in today's society.
Everyone throughout the United States and in many other countries has in one way or another felt the touch of these institutions. These places have both directly and indirectly affected people and their families. They have shaped lives and created many popular myths about them.
With all that in mind, this site was created to help in the historical research of any institutions that can be classified as an asylum. It was created for both serious researchers, those who are doing genealogical research, and people with an interest in asylums.
Featured Article Of The Week

Battle Creek Sanitarium

It started in 1854 when the Adventist Church was established in Battle Creek. In 1860, the denominational name was changed to Seventh-day Adventist (SDA): "Seventh Day," because their Sabbath is on Saturday, the seventh day of the week; and "Adventist," because they were remnants of the Millerite movement that erroneously predicted the advent of the Second Coming of Christ in 1844. The denomination believes in sanctity of body and soul, and advocates temperance and preventive medicine as a way of life. To support this belief, the Adventists opened their first health retreat, the Western Health Reform Institute, in 1866.

Dr. John Harvey Kellogg (1852-1943) took charge of the Institute for the Seventh-day Adventist Church in 1876 and changed the name to the Battle Creek Sanitarium. He came up with the word "sanitarium" to reflect his idea of a sanitary retreat for health restoration and training ("a place where people learn to stay well") rather than "sanitorium," which meant a hospital for invalids or for treatment of tuberculosis. The San, as the place was familiarly known, prospered under Dr. Kellogg's direction. The original building was expanded and a new structure ("Old Main") was completed in April 1878.

Dr. Kellogg's medical treatment embraced all branches of medicine, including surgery, but with emphasis on fresh air, sunshine, exercise, rest and diet. The SDA dietary practices eliminated meats, condiments, spices, alcohol, chocolate, coffee and tea. Nutritious substitutes were created for "harmful" foods. Dr. Kellogg invented some 80 grain and nut products. He originated peanut butter in 1893 by grinding cooked peanuts in the kitchens at the San. He manufactured the first Battle Creek health food, granola (an ancestor of Grape-Nuts) in 1878. A "Caramel Cereal" coffee substitute beverage (an ancestor of Postum) was developed as a suitable drink for use at the San in 1876. Click here for more...

Featured Image Of The Week

The

Coldwater Regional Mental Health Center

opened in 1874 as the State Public School for Orphaned Children. The school was opened in Coldwater on May 21, 1874. Once admitted, children participated in "family-like" life in cottages and a placing-out program. A third of each day was used for schoolwork, a third for recreation and entertainment, and a third for acquiring work skills. Children learned reading, spelling, counting, calisthenics, singing, cyphering and slate drawing. By the turn of the century, the facility had become the only home in Michigan admitting both normal and handicapped children.

Recent Message Board Posts

Hello,

In this space you normally would see our forum. This had been a hold over from earlier days before we had a Facebook page. Just prior to our server issues regular users had been barely using the forum with the majority of new posts from anonymous users asking genealogy questions or spammers. The old forum software does not work with our new version while the new forum software does not carry over old comments to the new forum. As a result, the forum will be discontinued in favor of our Facebook page. If you have questions or comments you can ask them there.

Asylum Projects Facebook Page
If you have genealogical question here is an information page to help you.

Featured Video

The following video is a fifty-four minute video on the history surround Belchertown State School created by Arbez Productions.