Main Page
From Asylum Projects
Welcome to Asylum Projects,

A historic asylum wiki anyone can edit.

2,104

articles and counting

We need your help!
Click here to see current and past preservation alerts and how you can help.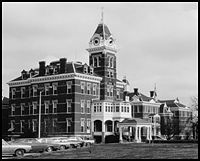 The Mission
The mission of this site is to archive both historical and current information on asylums across the United States and around the world.
The Statement
This site is dedicated to the history of asylums in all forms. The term of asylum is applied to not only what is commonly thought of: mental hospitals, but can also be applied to sanatoriums, state training schools, reform schools, almshouses, and orphanages. These institutions have and continue to play a major part in today's society.
Everyone throughout the United States and in many other countries has in one way or another felt the touch of these institutions. These places have both directly and indirectly affected people and their families. They have shaped lives and created many popular myths about them.
With all that in mind, this site was created to help in the historical research of any institutions that can be classified as an asylum. It was created for both serious researchers, those who are doing genealogical research, and people with an interest in asylums.
Featured Article Of The Week
Augusta State Hospital
Mrs. Catherine Winslow, the first woman employed at the Maine Insane Hospital, was appointed matron when the asylum opened in 1840. The asylum was the product of a collaborative effort between the state and two private citizens, Reuel Williams of Augusta (married to Sarah Cony) and Benjamin Brown of Vassalborough. While early mental health institutions may fall far short of present-day standards for treatment for mental illness, the establishment of such places in the early nineteenth century was based, in part, on reforming care for the mentally ill.
Prior to mental health hospitals, the mentally ill were the responsibility of their families, and if their families could not cope, they were either put in poor houses, put out on the streets, or locked away in jail. Mental health reformer Dorothea Dix (1802-1887), a native of Hampden, Maine, worked closely with the second superintendent of the Augusta asylum, Issac Ray (appointed in 1841). The building was state-of-the-art when constructed. All parts had ventilation, lighting, heating, and water. Men and women had separate wings.
Over its 162 years of service, the hospital has carried a number of names and today it is called the Augusta Mental Health Institute. Many buildings on the campus now serve as state offices. A new hospital,Riverview Psychiatric Center, was opened in 2004 to replace the facility. Click here for more...
Featured Image Of The Week
The
Eastern Maine Insane Hospital
was opened on July 1, 1901. It was built on a pastoral hill named 'Hepatica Hill' for its flowers overlooking the city of Bangor and the Penobscot River. Pine trees were planted around all of the driveways on the campus and have since grown to enormous sizes.
In 1997, the documentary entitled: Unforgotten: 25 Years After Willowbrook. It recounts what happened inside the state school, the impact of Rivera's expose, and life afterword. Along with that, the documentary follows four people and their families both before, during, and after the closure of the institution. (In March, 2009, a fire in a residence in upstate Wells, New York, killed four members of the "Willowbrook Class" that was featured in this film.)
Recent Message Board Posts
Hello,
In this space you normally would see our forum. This had been a hold over from earlier days before we had a Facebook page. Just prior to our server issues regular users had been barely using the forum with the majority of new posts from anonymous users asking genealogy questions or spammers. The old forum software does not work with our new version while the new forum software does not carry over old comments to the new forum. As a result, the forum will be discontinued in favor of our Facebook page. If you have questions or comments you can ask them there.

Asylum Projects Facebook Page
If you have genealogical question here is an information page to help you.