Main Page
From Asylum Projects
Welcome to Asylum Projects,

A historic asylum wiki anyone can edit.

2,055

articles and counting

We need your help!
Click here to see current and past preservation alerts and how you can help.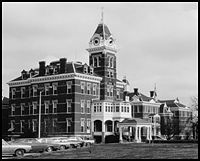 The Mission
The mission of this site is to archive both historical and current information on asylums across the United States and around the world.
The Statement
This site is dedicated to the history of asylums in all forms. The term of asylum is applied to not only what is commonly thought of: mental hospitals, but can also be applied to sanatoriums, state training schools, reform schools, almshouses, and orphanages. These institutions have and continue to play a major part in today's society.
Everyone throughout the United States and in many other countries has in one way or another felt the touch of these institutions. These places have both directly and indirectly affected people and their families. They have shaped lives and created many popular myths about them.
With all that in mind, this site was created to help in the historical research of any institutions that can be classified as an asylum. It was created for both serious researchers, those who are doing genealogical research, and people with an interest in asylums.
Featured Article Of The Week

Columbus State Hospital

The "Lunatic Asylum of Ohio" was organized by Act of the Thirty-fourth General Assembly, passed March 5, 1835, and Samuel Parsons, William M. Awl and Samuel F. Maccracken were appointed directors. These Directors selected a tract of land about one mile east and north of the State House, in Columbus, comprising thirty acres. This tract fronted south on what is now East Broad street, and the western boundary was near what is now Washington avenue. During the next three years they erected a building on these grounds, at a cost of about sixty-one thousand ($61,000) dollars. The institution accommodated one hundred and twenty patients, and was the first institution for the treatment of the insane organized west of the Alleghenies. On May 21, 1838, William M. Awl, M. D., of Columbus, was elected Medical Superintendent by the Trustees, and the first patient was received on November 30 of that year.

The building was two hundred and ninety-five feet in length and contained one hundred and fifty-three single rooms. The Directors apologized for the apparently extravagant size by saying that it would be required in a few years. Yet it was the only asylum the state then had. Now—1900-1—the state has accommodations for more than seven thousand five hundred patients in the several "State Hospitals" at Cleveland, Columbus, Dayton, Longview, Massillon and Toledo, and every institution is crowded to its full capacity. Dr. Awl was in charge as Superintendent until 1850, a period of twelve years, when he was succeeded by Samuel H. Smith, M. D. He was succeeded in 1852 by E. Kendrick, M. D., and he by George E. Eels, M. D., in June 1854. On August 1, 1855, Dr. Richard Gundry, who later became so prominent in the care of the insane in Ohio and the United States, was appointed Assistant Physician. In July, 1856, Dr. R. Hills, of Delaware, was appointed Superintendent. He held the position for several years, and was succeeded by Dr. William L. Peck. Click here for more...

Featured Image Of The Week

The

Dayton State Hospital

was first occupied September, 1855, with a capacity of 162, known as the Southern Ohio Lunatic Asylum. In the year 1875, it was changed to Western Ohio Hospital for the Insane; in 1877, to the Dayton Hospital for the Insane; in 1878, to the Dayton Asylum for the Insane; and in 1894, to the Dayton State Hospital and was located on a hill southeast of the city of Dayton.

The following nine minute clip produced by S. Weber and entitled "Searching for the Lost Buildings of the Kings Park State Hospital" talks about the buildings that were razed on the Kings Park State Hospital campus during its operating years.