Main Page
From Asylum Projects
Welcome to Asylum Projects,

A historic asylum wiki anyone can edit.

2,306

articles and counting

We need your help!
Click here to see current and past preservation alerts and how you can help.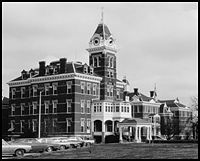 The Mission
The mission of this site is to archive both historical and current information on asylums across the United States and around the world.
The Statement
This site is dedicated to the history of asylums in all forms. The term of asylum is applied to not only what is commonly thought of: mental hospitals, but can also be applied to sanatoriums, state training schools, reform schools, almshouses, and orphanages. These institutions have and continue to play a major part in today's society.
Everyone throughout the United States and in many other countries has in one way or another felt the touch of these institutions. These places have both directly and indirectly affected people and their families. They have shaped lives and created many popular myths about them.
With all that in mind, this site was created to help in the historical research of any institutions that can be classified as an asylum. It was created for both serious researchers, those who are doing genealogical research, and people with an interest in asylums.
Featured Article Of The Week
Edgewood State Hospital
Edgewood State Hospital was a tubercular/psychiatric hospital complex that formerly stood in Deer Park, New York, on Long Island, New York, USA. It was one of four state mental asylums built on Long Island (the others being Kings Park, Central Islip, and Pilgrim), and was the last one of the four to be built.
The hospital was built in the early 1940s, believed to be a Works Progress Administration-funded project. It consisted only of ten buildings (including its massive, prominent 13-story main building), making it the smallest of the four as well (although it was planned to be a larger complex, those plans never made it past paper). The facility was commandeered by the War Department after the United States entered World War II. The War Department completed its construction for use as a psychiatric facility for battle-traumatized soldiers. Its entire campus (in addition to three buildings from nearby Pilgrim State Hospital and numerous temporary structures) was used as "Mason General Hospital" by the department.
When the war ended, the hospital was transferred back to New York State, where it essentially operated as the tubercular division of Pilgrim for a few years. In 1946 film director John Huston was assigned by the U.S government to film a documentary film about recovering soldiers in the hospital for propaganda purposes, the film was called "Let There Be Light". Click here for more...
Featured Image Of The Week
In 1866, eleven years after the strong memorial presented to the Legislature by county superintendents of the poor setting forth the neglected condition of the insane and recommending the establishment of two additional state hospitals for their care and treatment, Governor Fenton appointed five commissioners to secure a suitable site "on or near the Hudson River below the City of Albany, upon which to erect the
Hudson River Asylum for the Insane
."
The following video was created by New Zealand's One TV, a news station, on the hospital and was uploaded to Youtube by TATV. It focuses on Tokanui Psychiatric Hospital's abandoned state in a larger picture of government owned abandoned buildings spread across the island.
Recent Message Board Posts
Hello,
In this space you normally would see our forum. This had been a hold over from earlier days before we had a Facebook page. Just prior to our server issues regular users had been barely using the forum with the majority of new posts from anonymous users asking genealogy questions or spammers. The old forum software does not work with our new version while the new forum software does not carry over old comments to the new forum. As a result, the forum will be discontinued in favor of our Facebook page. If you have questions or comments you can ask them there.

Asylum Projects Facebook Page
If you have genealogical question here is an information page to help you.