Main Page
From Asylum Projects
Welcome to Asylum Projects,

A historic asylum wiki anyone can edit.

2,112

articles and counting

We need your help!
Click here to see current and past preservation alerts and how you can help.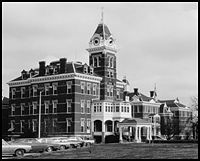 The Mission
The mission of this site is to archive both historical and current information on asylums across the United States and around the world.
The Statement
This site is dedicated to the history of asylums in all forms. The term of asylum is applied to not only what is commonly thought of: mental hospitals, but can also be applied to sanatoriums, state training schools, reform schools, almshouses, and orphanages. These institutions have and continue to play a major part in today's society.
Everyone throughout the United States and in many other countries has in one way or another felt the touch of these institutions. These places have both directly and indirectly affected people and their families. They have shaped lives and created many popular myths about them.
With all that in mind, this site was created to help in the historical research of any institutions that can be classified as an asylum. It was created for both serious researchers, those who are doing genealogical research, and people with an interest in asylums.
Featured Article Of The Week
Oregon State Hospital
As early as 1862 Governor Addison Gibbs recommended to the Oregon Legislature the establishment in Salem of an asylum to provide for the care and medical treatment of "insane and idiotic persons". Prior to the passage of any act dealing with the insane, each county had dealt with such unfortunate citizens on an individual basis. A document in the Oregon Archives offers an instance of this bid procedure: dated August 6, 1845, William P. Dougherty of Oregon City awarded a contract for "Boarding, clothing, and keeping" Eli Smith, "a lunatic," to Andrew Hembrie for $1.00 per day. Hembrie was under $600 bond to fulfill the contract. Similar contracts could be found in each of the counties, usually under "Pauper Accounts."
By 1862, Dr. J. C. Hawthorne had opened his Portland Institute for the Insane. Marion County, along with most of the counties then in existence, contracted with Dr. Hawthorne to care for their citizens "of unsound mind." At county expense, these unfortunates were shipped to Portland.
Funds were allocated in the Fall of 1880 for the Oregon State Insane Asylum; the site selected was north of the state prison on a slight rise just east of Salem, its present location. Ground breaking took place in May 1881 with much of the labor force and brick building material coming from the penitentiary. Click here for more...
Featured Image Of The Week
Prior to this, in 1894, construction was started on
a building designated to be the Oregon State Deaf-Mute School
, and was so occupied during the years of 1896 and 1897, but because of the inability to transport supplies over the nearly non-existent roads this building southeast of Salem was abandoned. After the Legislature enacted the laws for a sanatorium for treatment of the tubercular, one of the senators of that time saw this site, nestled in the foothills with available buildings, and action was taken to utilize this for the proposed Oregon State Tuberculosis Hospital.
Recent Message Board Posts
Hello,
In this space you normally would see our forum. This had been a hold over from earlier days before we had a Facebook page. Just prior to our server issues regular users had been barely using the forum with the majority of new posts from anonymous users asking genealogy questions or spammers. The old forum software does not work with our new version while the new forum software does not carry over old comments to the new forum. As a result, the forum will be discontinued in favor of our Facebook page. If you have questions or comments you can ask them there.

Asylum Projects Facebook Page
If you have genealogical question here is an information page to help you.