Difference between revisions of "Eastern State Hospital Lexington"
From Asylum Projects
m

Line 46:
Line 46:
 

</gallery>

 

</gallery>

 
 
−

== Links ==  

+

====

 
+
 
+
 

*[http://www.kykinfolk.com/esh/ Cemetery Preservation group]

 

*[http://www.kykinfolk.com/esh/ Cemetery Preservation group]

 
 
Line 57:
Line 59:
 

[[Category:Active Institution]]

 

[[Category:Active Institution]]

 

[[Category:Preserved Institution]]

 

[[Category:Preserved Institution]]

 
+
---
Revision as of 13:47, 18 May 2010
Eastern State Hospital
Established
1816
Construction Began
1817
Construction Ended
1818
Opened
1824
Current Status
Active
Building Style
Rambling Plan
Location
Lexington,KY
Peak Patient Population
2100 est. in 1946
Alternate Names
Lunatic Asylum of Kentucky


Eastern Lunatic Asylum of Kentucky
Eastern Kentucky Asylum for the Insane


Eastern State Hospital(current)
History
The hospital's main building was built in 1817 as the Fayette Hospital, originally intended to house the area's poor & mentally ill. Eastern State Hospital in Lexington, KY was established by a legislative act of Dec. 4, 1822 & was now operated by the state. In 1824 it admitted it's first patient and added 2 additional wings in 1825, then two more 4 years later.
Between 1834 and 1868 more buildings were added including boiler house and laundry building. Dorthea Dix visited the hospital in 1846 & 1858 in an effort for better treatment of patients and improved living conditions. This lead to the addition of several wings & a new building. In 1862, a year after the start of the Civil War, employees were required to take an oath of allegiance to the U.S. During the war the hospital was occupied by Confederate forces for a short time and operated as a hospital for sick & wounded soldiers along with the regular mentally ill patients. Afterward in 1868, a separate building for African-Americans was constructed, as Eastern State was the only asylum in Kentucky at the time that accepted non-white patients.
With the turn of the century, the hospital received more improvements and expansion. This included being connected to the city sewer system, phone system connected to all wards, a bowling alley & a new laundry facility & administration building. By 1922 the patient population was 1,400 with 154 employees. Between 1938 and 1943 the Gragg building was renovated, this was the hospital's original building completed in 1824. At the end of WW 2 the hospital reached it's peak population of just over 2,000. Also new treatments were being used, including Electro and Metrozol shock treatment, Malarial fever therapy & lobotomies. The patient population began to finally decline by the mid-1950s, at this time the Wendell and Allen buildings were completed. Farming operations, run by the patients was terminated in 1957 & property sold to IBM for their new facility. 1967 brought the first patient population under 1,000 in many years.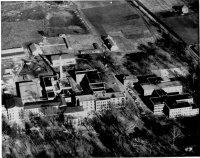 Most of the original buildings still stand but only the "newer" ones are still used by patients. Plans are being completed replace the current hospital complex. It would become a campus for BCTCS (Bluegrass Technical Community College System). Those plans aren't finalized so it isn't known which buildings will be preserved & reused. It is the nation's oldest continually operational public mental institution. There is a cemetery on the property that contains approximately 4,000-6,000 sets of remains of for patients buried during the history of the hospital through 1956.
Images of Eastern State Hospital
Main Image Gallery: Eastern State Hospital Lexington
Cemetery
There is a cemetery at the rear of the property that contains approx. 4,000 to 6,000 sets of remains of former patients buried on the property between 1824 & 1956. This cemetery has been in place since 1984 after the original cemetery had been moved twice. An unknown number graves exist throughout the hospital containing as may as 4,000 additional graves.
Books
The Early Gatekeepers: A Saga of Three American Institutions, by Wynelle Deese