Kalamazoo State Hospital
From Asylum Projects
Kalamazoo State Hospital
Construction Began
1854
Opened
1859
Current Status
Active
Building Style
Kirkbride Plan (Demolished)
Location
Kalamazoo, MI
Alternate Names



Western Michigan Asylum
Michigan Asylum for the Insane
Kalamazoo Regional Psychiatric Hospital
Kalamazoo Psychiatric Hospital
History
The choice of Kalamazoo as the location for the Michigan Asylum at Kalamazoo was helped by the fact that the governor was Epaphroditus Ransom, who once resided in Kalamazoo. Although the asylum was originally planned for a site in what is now the Stuart neighborhood, it was decided that this location was too close to downtown. So planners instead chose to place the hospital far out in the country, where they would never be bothered by these people. That location was on what is now Oakland Drive, where the hospital is still located.
The asylum was on the cutting edge of many forms of treatment. Through its close proximity to town, it was able to establish an innovative outpatient clinic in 1916 as well as a unique "family-care" program that placed patients in certified homes. The hospital also made use of colony farms, adjunct properties on which patients with milder illnesses — and those who today might be considered developmentally delayed — lived in familial farm settings. (One of these was near Kalamazoo's Asylum Lake.) They often raised livestock and produce for use at the hospital. The farms are examples of the limited treatment options for the mentally ill that were available before the 1950s. Electroshock therapy, insulin-induced comas and some barbiturate drugs resulted in limited reversals in thoughts and behavior of patients, he said.
Narcoleptic or anti psychotic drugs, such as Thorazine, that would revolutionize psychiatric treatment and the role of psychiatric hospitals in society. Patients who had been in the hospital for decades were suddenly responsive, able to care for themselves, and moving back to live with their families. By 1987, the number of patients had dropped to 550.By 1959 the State Hospital had a patient load of 3,500 and 900 staff that included doctors, nurses, attendants and service personnel. It became almost a city in its own right with a power plant, water system, bakery, laundry, library, canteen, garage, cannery, general kitchen and greenhouse. For many years the hospital was one of the largest employers in Kalamazoo.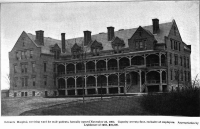 Increased budget cuts by the state and improved treatment methods and medication for patients led to an inevitable decline in patient population. The hospital began to shrink, dropping steadily from a high of 3,500 patients in 1954-1955. Then in 1973, new treatment measures, such as rapid screening and intensive treatment, and early release into the community for other local agencies to take over, shrank the patient population even more. In 1980, the facility started laying off 88 employees and releasing 160 patients in response to the bare bones budget provided by the state. Finally, in 2000, then-Governor John Engler's administration decimated the state-run psychiatric hospitals in favor of community-based care at private agencies and hospitals.
Just a ghost of its former self, the Kalamazoo Psychiatric Hospital now has turned over most of its holdings on Oakland Drive to Western Michigan University, which has developed it as a health care corridor and research facilities, as well as the home of its current School of Nursing. Today (2008) there are only 2 original buildings still standing on the campus. The water tower was constructed in 1895 and quickly became a local landmark. It played prominently in the history of the city. The other is the "gate cottage" situated near Oakland Drive at the entrance to the hospital grounds. The gatehouse is "carpenter gothic" in style, featuring board and batten siding, a steep roof and "gingerbread" ornamentation. The house has been furnished with Victorian furniture and serves as a museum. When first built, it was used as the porter's residence and later housed a dozen women patients for a time.
Timeline
1854 — Construction of the Michigan Asylum at Kalamazoo begins.
1859 — The Michigan Asylum formally opens on Aug. 29.
1888 — The Colony Farm System for the mentally ill is established, with Brook Farm on Douglas Avenue the first farm colony in America.
1910 — Mechanical restraints are abolished, and occupational therapy is recognized as a treatment program.
1911 — The name is changed to Kalamazoo State Hospital.
1916 — An outpatient clinic is established at Vine Street School.
1931 — Public Act 281 of 1929 directs the sterilization of patients as a measure for preventing mental illness. Sterilizations are performed that year.
1939 — The Male Department Kirkbride is demolished
1958 — Farming operations are discontinued, and patients are transferred to the main hospital buildings.
1960 — The number of patients begins a rapid decline because of the introduction of narcoleptic drugs and the move toward community care and treatment.
1969 — The Female Department Kirkbride is demolished
1974 — Michigan Mental Health Code is enacted.
1976 — Name of hospital is changed to Kalamazoo Regional Psychiatric Hospital.
1995 — Name of hospital is changed to Kalamazoo Psychiatric Hospital.
2007 — All but about 100 acres of the nearly 1,500 acres of land once owned by the hospital's main campus and Brook Colony Farm are transferred to Western Michigan University
Images of Kalamazoo State Hospital
Main Image Gallery: Kalamazoo State Hospital
Books
Asylum for the Insane: A History of the Kalamazoo State Hospital by William A. Decker. Traverse City, MI : Arbutus Press, 2008. Search WorldCat for library copy
The Architecture of Madness: Insane Asylums in the United States by Carla Yanni. Minneapolis : University of Minnesota Press, 2007. Search WorldCat for library copy
Video
Kalamazoo Historic Preservation coordinator Sharon Ferraro reveals the secrets of this historic landmark and talks about its future. This program is part of the "This Old Building" series. www.kpl.gov <videoflash>jSjT9WOmGH8</videoflash>
Links