Difference between revisions of "Mayview State Hospital"
From Asylum Projects
Line 43:
Line 43:
 

*[http://www.post-gazette.com/pg/08363/938147-114.stm Mayview State Hospital: Last reminder of a lost era closes] - December 28, 2008

 

*[http://www.post-gazette.com/pg/08363/938147-114.stm Mayview State Hospital: Last reminder of a lost era closes] - December 28, 2008

 

*[http://www.post-gazette.com/pg/08364/938251-114.stm Mayview's closing brings fear and hope] - December 29, 2008

 

*[http://www.post-gazette.com/pg/08364/938251-114.stm Mayview's closing brings fear and hope] - December 29, 2008

−

 

+
 
 
 

== Images of Mayview State Hospital ==

 

== Images of Mayview State Hospital ==
---
Revision as of 04:54, 6 April 2015
Mayview State Hospital
Established
1938 (As a PA State Hospital)
Construction Began
1892
Closed
December 2008
Current Status
Closed
Building Style
Cottage Plan
Peak Patient Population
3,785 in 1967
Alternate Names



Mayview Poor House
Marshalsea
Pittsburgh City Home and Hospital at Mayview
History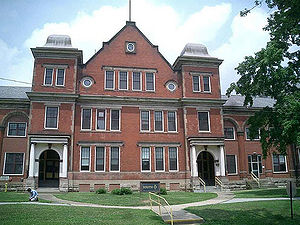 In 1804 a building was completed in the newly incorporated City of Pittsburgh. The new building was the city's first "poor house", it held a population of 30. In 1818, an increase in the size of the indigent population resulted in the construction of the Allegheny City Almshouse. By 1846, with the continued increase in patients, the city was scouting sites for yet another new almshouse. Roughly 150 acres were acquired along the banks of the Monongahela River at Homestead, in Mifflin township and a three-story brick building was built to hold 300 patients. The City Poor Farm at Homestead opened in 1852 and by 1879 a separate building was erected for treatment of the insane. With a burgeoning population and a conviction that rural settings were healthier, especially for tuberculosis patients, the city made plans to move the hospital again, this time it would be located well outside the city boundaries. Land along the Monongahela was valuable and the city sold its almshouse acreage to the Carnegie Steel Company for $450,000.
The city bought the George Neal Farm in what is now South Fayette Township at Upper St. Clair., and set up a rail station. In 1892 construction on a new hospital named Marshalsea began. A separate building for the insane was erected, and in 1899, and a physician was assigned to the insane department. In response to the need for adequate medical care for inmates, a general hospital was also erected at this site in 1909. Allegheny City, located on Pittsburgh's North Side, also maintained an institution for the poor and insane at Claremont that later became known as Blawnox. When Allegheny City became part of the city of Pittsburgh on December 6, 1907 the patients of Claremont were transferred to Marshalsea.
By 1900, the hospital's reputation as a place of sorrow was firmly established. The Home Monthly, a publication of the time, described the inmates at Marshalsea as "Poor wrecks of humanity they are -- some mental, some physical, some moral wrecks -- stranded, at last dependent upon the city for enough to keep a miserable broken body and a poor shrunken soul together. ... If there is to-day a discontented man or woman in this city I prescribe a trip to Marshalsea. The blood may flee from the face at times and pity clutch at the heart strings." Years later, a contest was held to find a more suitable name for the hospital. There were four finalists, the winner was Mayview. By 1916, the State Legislature gave its consent to change the name of the hospital from Marshalsea to the Pittsburgh City Home and Hospital at Mayview.
In accordance with an act of 1938 that required the state to take over all institutions for the care of the mentally ill, the State of Pennsylvania took control of the mental section of the hospital in 1941. The patient population reached a high point of 3,785 in June of 1967, with 1,200 staff and employees. In March 1973, the Department of Public Welfare made plans to move patients judged to be criminally insane from Farview State Hospital to Mayview. In 1982, an adolescent center was transferred from Woodville State Hospital to Mayview. During the closing of Dixmont State Hospital in 1984, the deaf unit was transferred to Mayview.
The patient population gradually reduced starting in the 1970s, by 2008 the hospital only had 354 patients with 800 staff and employees. The hospital provided services to Allegheny, Beaver, Greene, Lawrence and Washington Counties. In addition, a forensic division of the hospital provides services to clients from the entire region west of Harrisburg. Mayview State Hospital was closed by the Pennsylvania Department of Public Welfare in December of 2008. The remaining patients were individually assessed and were either transferred to another state hospital or to community care facilities. As of April 2010 the hospital still sits empty with an uncertain future.
A series of deaths and other serious incidents (known by the state as "sentinel events") started to occur after the closure of the hospital was announced in 2007. In the space of 24 hours in October 2007, two former Mayview patients died violently. Anthony Fallert, who had been released from the hospital in Spring of 2006, wandered from a South Side residence operated by Mercy Behavioral Mental Health. His body was found a day later in the Monongahela River. Authorities believe he had leapt or fallen from the Birmingham Bridge after leaving the facility. In the year after his release from Mayview, Mr. Fallert had lived at facilities in Clarion County and New Kensington and with his mother in Allentown. The day Mr. Fallert's body was being pulled from the river, another former Mayview patient, Ahson J. Abdullah, was struck by a train as he walked on the tracks near his home in Braddock. Mr. Abdullah, who had been in and out of jail over the course of his life, had been a patient at Mayview's forensic unit, which handles mental health cases referred by the courts. In all, state officials say 44 sentinel events have taken place among the region's mentally ill and critics suggest it could run higher. At the same time, the Department of Public Welfare says that of the 44 events cited, only three involved patients released from Mayview since the closure was announced Aug. 15 of 2007 and only 10 of the 44 cases had any prior history with Mayview.
News Articles
http://triblive.com/neighborhoods/alleghenyneighborhoods/alleghenyneighborhoodsmore/4376851-74/mayview-aloe-campus#axzz3WWdZT54N
Images of Mayview State Hospital
Main Image Gallery: Mayview State Hospital
Additional Information & Links