Napa State Hospital
From Asylum Projects
Napa State Hospital
Established
1871
Construction Began
1872
Opened
1875
Current Status
Active
Building Style
Kirkbride Plan (Demolished)
Alternate Names
Imola State Hospital
History
From the California Department of Health: In 1872, a site was selected and work began for the erection of the 500-bed, four-story, Gothic-style hospital building. The hospital originated due to overcrowded conditions at the Stockton Asylum, the first State Hospital. The doors of the unfinished entrance of Napa State Hospital opened on Monday, November 15, 1875, to the first individuals, two San Franciscans.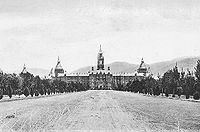 Initially, 192 acres of land were purchased for $11,506 from Don Cayetano Juarez. These acres were part of the Mexican Land Grant, Rancho Tulocay, received from General Mariano Vallejo. Additional land was acquired over the years bringing the total to over 2,000 acres. The land extended from a wharf on the Napa River to the eastern edge of Skyline Park, allowing for the development of dairy and poultry ranches, vegetable gardens, orchards and other farming operations necessary to make the hospital as self-sufficient as possible. Farming operations ceased in the late 1960's. Napa Valley College, Kennedy Park and Skyline Wilderness Park now occupy most of this land.
The population peaked in 1960 with over 5,000 individuals in residence and then steadily declined with the arrival of psychotropic medications and the development of county based programs. Treatment programs for developmentally disabled residents were operant from October 1968, to August 1987, and from October 1995, to March 2001.[1]
Images of Napa State Hospital
Main Image Gallery: Napa State Hospital
Cemetery
Used as a cemetery for indigent patients from about 1875 through the 1924, an eastern portion of the campus holds 4,368 bodies. Although it was once dotted with wooden grave markers, today an outbuilding and a calf barn that hasn't been used for decades sit atop the seemingly empty field. From the early to mid-1920s through the early 1960s, patients no longer were buried on hospital grounds, and no bodies were ever exhumed from Napa State grounds. Because burial acreage was limited, an on-site crematorium was built at Napa State in the mid-1920s and was in use until sometime in the 1960s. Remains of patients who died between about 1924 and 1965 were moved from Napa State to Inspiration Chapel & Napa Valley Memorial Park.
References
Articles
Life in an insane asylum, by Charles W. Coyle. The Overland Monthly, February 1893, vol. 21, no. 122, pp. 161-171. Full text in HathiTrust Full text in the Internet Archive