Portal:Featured Article Of The Week
From Asylum Projects
Featured Article Of The Week
Manteno State Hospital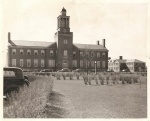 The Illinois Legislature in 1927, under the administration of Len Small, voted to build a new institution for the mentally ill as Kankakee and Chicago State Hospitals were becoming overcrowded. Appropriations for the land and original buildings for a new "insane" hospital were handled by the State Department of Public Welfare. Having in mind that a large proportion of people committed to asylums came from Cook county, a location was chosen close to Chicago and yet outside of the area of high-priced land. A site was chosen near the village of Manteno. 1,000 acres were acquired in a location near the town. Plans were drawn for construction of an administration building first, followed by 100 patient cottages. The contracts were awarded December 8th, 1928.
The fact that an Illinois Central depot was located in the village of Manteno and highway 50 was completed near the site had a great deal to do with the location. In his Biennial message of 1929, Governor Len Small announced in his building report that the hospital was under construction. The cost of the administration building and 8 2-story cottages at the time was $1,172,073. Dedication ceremonies were led by the Governor on November 21st, 1929. On the morning of December 27th, 1930, a train arrived in Manteno carrying 100 male patients from Kankakee and Chicago State Hospitals. Fifteen staff members from the hospital were there to greet them.
Dr. Ralph Hinton was the first administrator and many people who lived in Manteno rushed to apply to work at the newly built institution. Manteno State Hospital gave jobs to many people during the Great Depression. Click here for more...