Portal:Featured Article Of The Week
From Asylum Projects
Featured Article Of The Week
Pontiac State Hospital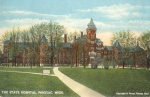 To supplement the rapidly overcrowding asylum at Kalamazoo, the Michigan state legislature established the new Eastern Asylum for the Insane in 1873 (renamed to the Eastern Michigan Asylum before it even opened), to be located in an eastern part of the state near the growing population center of Detroit, where many of Kalamazoo's patients where coming from. Members for a locating board were selected, and after considering potential sites at Detroit, which did not meet all of the requirements of the propositions, and at Holly, which had the advantage of railway lines running both North/South and East/West. But Holly was felt by the board to being too close in proximity to Flint, the location of the Asylum for the Deaf and Dumb, since it was a policy of the state to distribute its institutions. the Board selected the site at Pontiac known as the "Woodward farm" in June, 1874. This site had the advantages of good soil for farming, a raised elevation that insured pleasant views, fresh air, and good drainage, wells would be able to supply ample fresh water, and it was adjacent to a primary railway line.
Dr. E.H. VanDeusen, Medical Superintendent of the Kalamazoo asylum, supplied the ground plans for the new asylum building, and architect Elijah E. Myers, of Detroit (who was also the architect for the new State Capital building in Lansing), prepared the elevation and working drawings. On December 16th, 1874, the Board of Trustees approved the plans and bids for the construction of the new asylum were called for.
The center building serves to divide the sexes. The longitudinal divisions are the wards proper, consisting of a central corridor with rooms on each side, each room occupied by a single patient, and belonging to him exclusively. These rooms vary in size from nine by twelve feet, to eleven feet eight inches by twelve feet eight inches, the larger size predominating, and the clear space between floor and ceiling is in every case thirteen feet. Click here for more...