Portal:Featured Article Of The Week
From Asylum Projects
Featured Article Of The Week
Gallinger Municipal Hospital Psychopathic Ward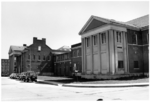 The old psychiatric ward at Gallinger Hospital was built in response to national reform trends, but construction was also spurred on by the dire need for mental health care facilities in the District of Columbia. In the first two decades of the twentieth century, St. Elizabeth and the Washington Asylum Hospitals were the only institutions in the city that cared for the mentally ill.
After the old almshouse, erected in 1847, was vacated in 1907 with the opening of the Blue Plains facility, it was used as a ward for the mentally ill. Conditions there were considered deplorable. The entire facility was often characterized as dilapidated and in 1916 became the subject of a newspaper expose decrying the squalid conditions as a "disgrace to the capital." In spite of this reform fervor, construction was delayed on the hospital by the political squabble over the hospital's site and the onset of World War I.
The Galiinger Municipal Hospital Psychopathic Ward was built between 1920 and 1922. The structure is an important example of a period and typical of psychiatric hospital design, and it also reflects the success of the U.S. Commission of Fine Arts policy in implementing a uniform classical architectural expression for the District's public buildings after its formation in 1910. Designed in 1919 by Municipal Architect Snowden Ashford (1866- 1927), the hospital ward was constructed by local contractor George H. Wynne at a cost of $766,200. Upon completion in 1923 the facility gamed immediate notice for its efficient Colonial Revival design and was featured in the influential health care journal Modern Hospital in 1924. it was also illustrated and described in a standard text on hospital planning, The American Hospital of the Twentieth Century (1926). The building group epitomized the "home-like" pavilion ward believed to be the best architectural solution for the general hospital's treatment of short-term psychiatric patients during the 1920s. Click here for more...