Difference between revisions of "Warren State Hospital"
From Asylum Projects
(Added cemetery info)

Line 73:
Line 73:
 

*[http://www.paranormalghostsociety.org/Warren%20State%20Hospital.htm Images at Paranormal & Ghost Society]

 

*[http://www.paranormalghostsociety.org/Warren%20State%20Hospital.htm Images at Paranormal & Ghost Society]

 
 
−

 

+
 
+
 
+
 
 
 

[[Category:Pennsylvania]]

 

[[Category:Pennsylvania]]

 

[[Category:Kirkbride Buildings]]

 

[[Category:Kirkbride Buildings]]

 

[[Category:Active Institution]]

 

[[Category:Active Institution]]

 
+
---
Revision as of 13:13, 20 May 2010
Warren State Hospital
Established
August 14, 1873
Construction Began
1874
Current Status
Active
Building Style
Kirkbride Plan
Peak Patient Population
2,562 in 1947
Alternate Names
The State Hospital for the Insane at Warren, PA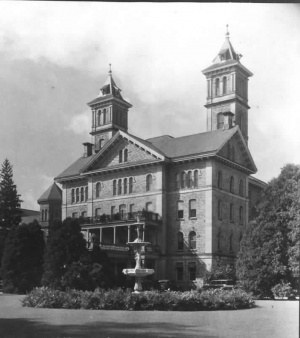 From the Pennsylvania Department of Public Welfare web page: Warren State Hospital was one of the first large mental hospitals to be built exactly following the "Kirkbride Model". The Kirkbride Model was named after Dr. Thomas Kirkbride, who in the mid eighteen hundreds designed mental hospital buildings in a manner that permitted natural sunlight to enter in each room sometime each day. Another feature of a Kirkbride building is that it had its own natural air conditioning, using venting towers to pull air up and through each room in the building. Furthermore, Kirkbride paid much attention to the grounds surrounding his buildings. This often included landscaping with shrubbery and trees in a park-like setting with fountains and tree-lined drives.
Center Building at Warren State Hospital was designed by Dr. Thomas Kirkbride and originally built to accommodate 650 patients. It has all of the features listed above, i.e. rooms open to sunlight each day, natural air conditioning, fountains at the main entrance, a tree-lined entrance and pleasant landscaping. The cornerstone for Center Building was laid on September 10, 1874.
The construction was long and tough. The cellars were all dug by hand. Single horse-driven carts were used to move the stone from the quarry to the building site, more than a mile away. Nineteen loads of stone and one of sand was considered a good day's work. Every stone used in the construction was hauled to the masons in wheelbarrows. Most of the sixteen million bricks were manufactured, shaped, and fired on the site, including rounded bricks and keystones. As walls went up, one mason worked on the outside to every two bricklayers working on the inside wall. Six men were hired to do nothing but sharpen the stonemasons' tools. Construction started at opposite ends of the building and worked towards the center. The towers on the front of Center Building were built last and horses were used to hoist these final stones.
The State Hospital for the Insane at Warren, PA, as it was named, admitted its first patient on December 5, 1880. Dr. John Curwen was the first full time superintendent.
From the beginning, the State Hospital was at the forefront of treatment for persons with mental illness. It opened an outpatient clinic in 1885 for people who did not need to be hospitalized and a free clinic was offered two times a month for people who could not pay. At about the same time, a patients' library was established, recreation therapy was instituted and an art teacher was hired. Dr. Curwen retired in 1900 at the age of 79.
Other superintendents continued to make changes. Patients were provided the most current treatments and activities such as fishing, picnics, annual 4th of July outings (which were held on the islands in the Conewango Creek), and an annual Christmas party. A patients' baseball team was formed and it played against local teams. Also, Annual Field Days became a big event for patients in which they participated in a variety of competitive games and events.
The hospital was self-sustaining in that it raised its beef cattle, managed a prize-winning dairy herd, grew and packed its own vegetables. It also had a laundry, bakery and large kitchen. In fact, money from oil, which was discovered on the land, was used to enlarge the farmland. Patients were involved in "Industrial Therapy" and in doing so, provided much of the labor for the farm operations, laundry, cannery, grounds keeping, and cleaning.
In 1901 a school for nurses was opened. In 1903 the first class graduated. The school was closed in 1936. By 1916, the patient population had grown to 1116 patients.
Through the years, the hospital changed with the times. The patient population continued to grow and more buildings were erected to accommodate them. In 1920, the name was changed to Warren State Hospital.
Other changes included: A psychiatric residency program, accredited by the American Medical Association, was established and trained many psychiatrists until closing in the mid-eighties.
A psychiatric technician program was started to better train direct care staff.
Statistics kept by WSH beginning in the early fifties demonstrated that the majority of persons hospitalized at WSH were successfully discharged to community living. These statistics were instrumental in getting congressional funding to start the National Institute for Mental Health.
A gymnasium/auditorium, capable of seating 1100, was built for patients.
The de-institutionalization movement started by the Community Mental Health Act of 1963 eventually resulted in the discharge of many persons from WSH during the seventies. In 1963, there were about 2600 patients at WSH. By 1980, the number of patients was about 1900 with continued reduction continuing through the eighties, resulting in approximately 600 patients remaining by 1990.
A treatment unit was established to meet the special needs of adolescents.
In 1970, construction was completed on the Institute for Geriatric Research, which was later renamed the Israel Building, after long-time superintendent Robert Israel.
A Forensic Unit was opened to provide inpatient psychiatric care and competency evaluations for inmates in jails across the hospital's catchment area. Today it remains as a 27-bed unit serving 31 counties in Pennsylvania.
A research program for geriatric studies was funded at WSH by the Commonwealth for many years. Lead researcher Dr. Phillip Swartz made several important discoveries in brain physiology and pathology. The program was discontinued in the mid-seventies.
WSH was the first hospital to erect a building using both state and private monies. This was the Inter-faith Chapel and today both patients and community members worship together at Protestant, Catholic and Jewish services.
The hospital was the first one in Pennsylvania to successfully complete a large community-hospital integration project. Ultimately, from 1993 to 1996, approximately 140 patients from Erie County were successfully returned to community living with funds being transferred from the hospital's budget to the mental health budget of Erie County to support their care.
The hospital initiated a policy of leasing surplus buildings to community human service agencies, which resulted in nearly 30 such agencies moving onto hospital grounds.

Many changes have taken place at WSH over the past 112 years, but throughout its history, it has been committed to providing the best care possible to its patients and to being a leader in treatment of persons with serious mental illness. Today, WSH has the ability to serve 215 patients in treatment (188 Civil, 27 Forensic) and remains an integral and important component in the continuum of care for persons with serious mental illness who reside in northwestern Pennsylvania. The hospital's service area encompasses the following counties: Cameron, Clarion, Clearfield, Crawford, Elk, Erie, Forest, Jefferson, McKean?, Mercer, Potter, Venango and Warren.
Images of Warren State Hospital
Main Image Gallery: Warren State Hospital
Links & Additional Information
Cemetery
A cemetery containing almost 1,000 graves of former patients was recently restored. List of names buried at the cemetery