Main Page
From Asylum Projects
Welcome to Asylum Projects,

A historic asylum wiki anyone can edit.

2,218

articles and counting

We need your help!
Click here to see current and past preservation alerts and how you can help.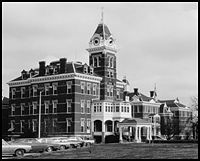 The Mission
The mission of this site is to archive both historical and current information on asylums across the United States and around the world.
The Statement
This site is dedicated to the history of asylums in all forms. The term of asylum is applied to not only what is commonly thought of: mental hospitals, but can also be applied to sanatoriums, state training schools, reform schools, almshouses, and orphanages. These institutions have and continue to play a major part in today's society.
Everyone throughout the United States and in many other countries has in one way or another felt the touch of these institutions. These places have both directly and indirectly affected people and their families. They have shaped lives and created many popular myths about them.
With all that in mind, this site was created to help in the historical research of any institutions that can be classified as an asylum. It was created for both serious researchers, those who are doing genealogical research, and people with an interest in asylums.
Featured Article Of The Week
Cleveland State Hospital
The Cleveland State Hospital was a state-supported psychiatric facility for long-term care. Originally known as the Northern Ohio Lunatic Asylum, it was the second of 6 public asylums established in Ohio during the 1850s. It was later known as Newburgh State Hospital. The Northern Ohio Lunatic Asylum was authorized by an act of the Ohio legislature. The main building, containing 100 beds, was completed in 1855 on land in Newburgh donated by the family of James A. Garfield, later U.S. president. Previously, many of those considered insane had been kept in jails or almshouses. The asylum was to provide a quiet place outside the city where healthy, moral living habits could be learned (although management of disturbed patients then also included seclusion, cuffs, straps, strait-jackets, and cribs). The hospital was run by a 5-member Board of Trustees appointed by the governor, with Dr. Horace Ackley the first chair and superintendent. In its first 100 years, the hospital had 21 different superintendents; the last, Dr. William Grover, served for 18 years.
In its early years, the hospital had a homelike atmosphere; patients and staff usually dined together. An "open" facility, most patients were free to make use of the grounds. After a fire in 1872, a more substantial structure was built, with capacity for 650 patients. But by 1874 there were reports of overcrowding, a persistent problem. By 1900 the hospital had cared for over 10,000 patients. At this time it began to treat mainly poorer patients, including an increasing number admitted by the courts, further adding to patient numbers (2,000 by 1920). Although Cleveland State Hospital kept pace with progress in medicine, conditions continued to decline in the 1920s and 1930s because of overcrowding and irregular state support. In 1946 investigations by the Cleveland Press and the newly formed Cleveland Mental Health Assn. revealed brutality and criminal neglect, and often squalid conditions. Click here for more...
Featured Image Of The Week
The
building was two hundred and ninety-five feet in length
and contained one hundred and fifty-three single rooms. The Directors apologized for the apparently extravagant size by saying that it would be required in a few years. Yet it was the only asylum the state then had. Now—1900-1—the state has accommodations for more than seven thousand five hundred patients in the several "State Hospitals" at Cleveland, Columbus, Dayton, Longview, Massillon and Toledo, and every institution is crowded to its full capacity.
The following nearly thirty minute video on Glenwood State School created by Ray Stewart of WOI-TV Ames, Iowa along with Iowa State University. It is part of the "In Our Care," a 13 week series of documentaries filmed inside Iowa's state institutions. The series won the 1952 National Sylvania Television Award for Production Excellence. The Minnesota Governor's Council on Developmental Disabilities is responsible for uploading it to YouTube.
Recent Message Board Posts
Hello,
In this space you normally would see our forum. This had been a hold over from earlier days before we had a Facebook page. Just prior to our server issues regular users had been barely using the forum with the majority of new posts from anonymous users asking genealogy questions or spammers. The old forum software does not work with our new version while the new forum software does not carry over old comments to the new forum. As a result, the forum will be discontinued in favor of our Facebook page. If you have questions or comments you can ask them there.

Asylum Projects Facebook Page
If you have genealogical question here is an information page to help you.