Main Page
From Asylum Projects
Welcome to Asylum Projects,

A historic asylum wiki anyone can edit.

2,325

articles and counting

We need your help!
Click here to see current and past preservation alerts and how you can help.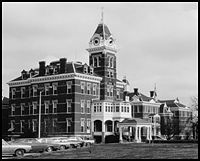 The Mission
The mission of this site is to archive both historical and current information on asylums across the United States and around the world.
The Statement
This site is dedicated to the history of asylums in all forms. The term of asylum is applied to not only what is commonly thought of: mental hospitals, but can also be applied to sanatoriums, state training schools, reform schools, almshouses, and orphanages. These institutions have and continue to play a major part in today's society.
Everyone throughout the United States and in many other countries has in one way or another felt the touch of these institutions. These places have both directly and indirectly affected people and their families. They have shaped lives and created many popular myths about them.
With all that in mind, this site was created to help in the historical research of any institutions that can be classified as an asylum. It was created for both serious researchers, those who are doing genealogical research, and people with an interest in asylums.
Featured Article Of The Week
Traverse City State Hospital
Northern Michigan Asylum for the Insane was established in 1885 as the demand for a third psychiatric hospital, in addition to those established in Kalamazoo and Pontiac, Michigan, began to grow. Lumber baron Perry Hannah, "the father of Traverse City," used his political influence to secure its location in his home town. Under the supervision of prominent architect Gordon W. Lloyd, the first building, known as Building 50, was constructed with Victorian-Italianate? style according to the Kirkbride Plan.
Under Dr. James Decker Munson (1848-1929), the first superintendent from 1885 to 1924, the institution expanded. 12 housing cottages and 2 infirmaries were built between 1887 and 1903 to meet the specific needs of more male and female patients. The institution became the city's largest employer and contributed to its growth.
Long before the advent of drug therapy in the 1950s, Dr. Munson was a firm believer in the "beauty is therapy" philosophy. Patients were treated through kindness, comfort, pleasantry, and exposure to the asylum's plentiful arrangements of flora provided year round by its own greenhouses and the variety of trees Dr. Munson planted on the grounds. Restraints, such as the straitjacket were forbidden. Also, as part of the "work is therapy" philosophy, the asylum provided opportunities for patients to gain a sense of purpose through farming, furniture construction, fruit canning, and other trades that kept the institution fully self-sufficient. Click here for more...
Featured Image Of The Week
The choice of Kalamazoo as the location for the
Michigan Asylum at Kalamazoo
was helped by the fact that the governor was Epaphroditus Ransom, who once resided in Kalamazoo. Although the asylum was originally planned for a site in what is now the Stuart neighborhood, it was decided that this location was too close to downtown. So planners instead chose to place the hospital far out in the country, where they would never be bothered by these people. That location was on what is now Oakland Drive, where the hospital is still located.
The following seventeen minute video is a well researched history tour of the Tarban Creek Lunatic Asylum by ShhSydney Urbex Adventures.
Recent Message Board Posts
Hello,
In this space you normally would see our forum. This had been a hold over from earlier days before we had a Facebook page. Just prior to our server issues regular users had been barely using the forum with the majority of new posts from anonymous users asking genealogy questions or spammers. The old forum software does not work with our new version while the new forum software does not carry over old comments to the new forum. As a result, the forum will be discontinued in favor of our Facebook page. If you have questions or comments you can ask them there.

Asylum Projects Facebook Page
If you have genealogical question here is an information page to help you.