Main Page
From Asylum Projects
Welcome to Asylum Projects,

A historic asylum wiki anyone can edit.

2,121

articles and counting

We need your help!
Click here to see current and past preservation alerts and how you can help.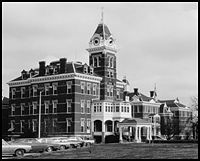 The Mission
The mission of this site is to archive both historical and current information on asylums across the United States and around the world.
The Statement
This site is dedicated to the history of asylums in all forms. The term of asylum is applied to not only what is commonly thought of: mental hospitals, but can also be applied to sanatoriums, state training schools, reform schools, almshouses, and orphanages. These institutions have and continue to play a major part in today's society.
Everyone throughout the United States and in many other countries has in one way or another felt the touch of these institutions. These places have both directly and indirectly affected people and their families. They have shaped lives and created many popular myths about them.
With all that in mind, this site was created to help in the historical research of any institutions that can be classified as an asylum. It was created for both serious researchers, those who are doing genealogical research, and people with an interest in asylums.
Featured Article Of The Week
Bangor State Hospital
The Eastern Maine Insane Hospital was opened on July 1, 1901. It was built on a pastoral hill named 'Hepatica Hill' for its flowers overlooking the city of Bangor and the Penobscot River. Pine trees were planted around all of the driveways on the campus and have since grown to enormous sizes.
Within five days of opening in 1901, 145 patients were transferred from the Maine Insane Hospital in Augusta to the Bangor location. Patients were generally committed to the hospital by their community peers, such as town selectmen, family, etc.
Patients worked the fields, raised livestock, manned the laundry, sewing room and kitchen as part of their "treatment." This made the hospital self-sufficient and any excesses were sold at market to pay additional costs, until 1973 when the case of Sonder vs. Brennan went to court and it was determined that patients in public institutions could not work without being paid.
The name of the hospital changed in 1913 to Bangor State Hospital and then eventually to Bangor Mental Health Institute in the early 70's. The highest patient census was in 1970 with 1,200 patients; however, with a concerted downsizing effort in the 70's, the census fell to 470 in 1974. There were approximately 300 patients through much of the 80's. Click here for more...
Featured Image Of The Week
Prior to mental health hospitals
, the mentally ill were the responsibility of their families, and if their families could not cope, they were either put in poor houses, put out on the streets, or locked away in jail. Mental health reformer Dorothea Dix (1802-1887), a native of Hampden, Maine, worked closely with the second superintendent of the Augusta asylum, Issac Ray (appointed in 1841). The building was state-of-the-art when constructed. All parts had ventilation, lighting, heating, and water. Men and women had separate wings.
The following is a forty minute video documenting the history of Camarillo State Hospital that had been created by the California Department of Developmental Services and was uploaded to youtube by PublicResources.org
Recent Message Board Posts
Hello,
In this space you normally would see our forum. This had been a hold over from earlier days before we had a Facebook page. Just prior to our server issues regular users had been barely using the forum with the majority of new posts from anonymous users asking genealogy questions or spammers. The old forum software does not work with our new version while the new forum software does not carry over old comments to the new forum. As a result, the forum will be discontinued in favor of our Facebook page. If you have questions or comments you can ask them there.

Asylum Projects Facebook Page
If you have genealogical question here is an information page to help you.