Main Page
From Asylum Projects
Welcome to Asylum Projects,

A historic asylum wiki anyone can edit.

2,348

articles and counting

We need your help!
Click here to see current and past preservation alerts and how you can help.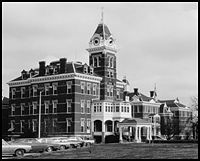 The Mission
The mission of this site is to archive both historical and current information on asylums across the United States and around the world.
The Statement
This site is dedicated to the history of asylums in all forms. The term of asylum is applied to not only what is commonly thought of: mental hospitals, but can also be applied to sanatoriums, state training schools, reform schools, almshouses, and orphanages. These institutions have and continue to play a major part in today's society.
Everyone throughout the United States and in many other countries has in one way or another felt the touch of these institutions. These places have both directly and indirectly affected people and their families. They have shaped lives and created many popular myths about them.
With all that in mind, this site was created to help in the historical research of any institutions that can be classified as an asylum. It was created for both serious researchers, those who are doing genealogical research, and people with an interest in asylums.
Featured Article Of The Week
John Dibert Tuberculosis Hospital
The John Dibert Tuberculosis Hospital was built in 1936 in New Orleans. It was founded by Eve Dibert, in memory of her husband and at a cost of $450,692.26. A 1926 report describes the building:
"This modern, up-to-date building of two hundred and fifty bed capacity, is a complete hospital unit, fully equipped and capable of caring for, in an efficient manner, the unfortunates who are afflicted with that malady. There is no separate X-Ray unit, but the building is so wired that a portable machine can take pictures of all who are unable to be transported to the Main Laboratory. There is a complete operating room, dental rooms and pathological laboratory that will serve only the patients in that department. A complete kitchen, costing in the neighborhood of $9,000.00, makes it possible to segregate that building from all others. The entire equipment will cost about $25,000.00. This low figure was made possible by competitive bids on every article furnished. It is intended to keep the cost of maintenance entirely separate from the rest of the hospital."
The building was erected as part of an already existing hospital complex. The same report details a series of tunnels that were constructed for patients and doctors to move freely about the complex buildings. Click here for more...
Featured Image Of The Week
An act of the legislative session of 1847 established
"The Insane Asylum of the State of Louisiana"
in Jackson and provided, among other things, for the construction of the Asylum's physical plant. The Asylum's Board of Administrators appointed an architect, a Mr. Gibbens. to draw up the plans. He was specifically told not to design something that would look like a prison. Gibbens came up with the design of the Center Building with its wings. The Board of Administrators purchased a 250-acre tract known as "Flowery Hill" a short distance from the business section of Jackson, separated from the town by a small stream.
This is a short documentary of a group of former patients who restored and memorialized forgotten cemeteries at the Danvers State Hospital.
Recent Message Board Posts
Hello,
In this space you normally would see our forum. This had been a hold over from earlier days before we had a Facebook page. Just prior to our server issues regular users had been barely using the forum with the majority of new posts from anonymous users asking genealogy questions or spammers. The old forum software does not work with our new version while the new forum software does not carry over old comments to the new forum. As a result, the forum will be discontinued in favor of our Facebook page. If you have questions or comments you can ask them there.

Asylum Projects Facebook Page
If you have genealogical question here is an information page to help you.