Main Page
From Asylum Projects
Welcome to Asylum Projects,

A historic asylum wiki anyone can edit.

2,104

articles and counting

We need your help!
Click here to see current and past preservation alerts and how you can help.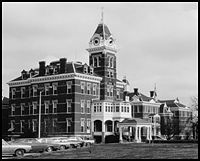 The Mission
The mission of this site is to archive both historical and current information on asylums across the United States and around the world.
The Statement
This site is dedicated to the history of asylums in all forms. The term of asylum is applied to not only what is commonly thought of: mental hospitals, but can also be applied to sanatoriums, state training schools, reform schools, almshouses, and orphanages. These institutions have and continue to play a major part in today's society.
Everyone throughout the United States and in many other countries has in one way or another felt the touch of these institutions. These places have both directly and indirectly affected people and their families. They have shaped lives and created many popular myths about them.
With all that in mind, this site was created to help in the historical research of any institutions that can be classified as an asylum. It was created for both serious researchers, those who are doing genealogical research, and people with an interest in asylums.
Featured Article Of The Week
Enfield Hospital
The Enfield Receiving House was opened by the government in 1922 at Enfield. It was used for the observation and temporary treatment of patients who were not certified and sent to the mental hospital. It also admitted voluntary psychiatric patients. Children with intellectual disabilities, including State-children, were placed at the Receiving House, often in wards with adult patients. In 1963 the Enfield Receiving House was renamed the Enfield Hospital.
The establishment of a Receiving House as a place where potential patients could go for observation and temporary treatment without being certified and sent to the mental hospital was provided for in the Mental Defectives Act 1913. However, the Enfield Receiving House, which was opened by the government on 22 June 1922, was the first such institution in South Australia.
The term 'mental defective' replaced 'lunatic' in the new Act and referred to both people suffering from mental illness and those with intellectual disabilities.
The Receiving House was located on a 20 acre block at Enfield and opened with accommodation for between 45 and 50 patients. The first patients included 23 men and 20 women. By 1929 the Receiving House was treating 336 patients with a daily average of 37. During the year 159 patients were discharged and 128 patients were transferred to Parkside Mental Hospital. Click here for more...
Featured Image Of The Week
When the colony of South Australia
began in 1836, there was no provision made for people with a mental illness, or lunatics as they were then called. Consequently, they were kept in the Adelaide Gaol. A ward was set aside for the insane where, reflecting the view of the time, thet were kept restrained and out of sight. To address this problem a Board of Pauper Lunatics was set up in 1841 to suggest alternative solutions. However, no one was prepared to take any responsibility. In addition, the colony was nearly bankrupt which restricted public expenditure, so nothing was done.
The following sixth-eight minute documentary entitled "If these walls could talk stories behind Toronto's psychiatric patient built wall" is about the Queen Street Mental Health Centre. It was created by Toronto filmmakers Naomi Berlyne and Sibyl Likely.
Recent Message Board Posts
Hello,
In this space you normally would see our forum. This had been a hold over from earlier days before we had a Facebook page. Just prior to our server issues regular users had been barely using the forum with the majority of new posts from anonymous users asking genealogy questions or spammers. The old forum software does not work with our new version while the new forum software does not carry over old comments to the new forum. As a result, the forum will be discontinued in favor of our Facebook page. If you have questions or comments you can ask them there.

Asylum Projects Facebook Page
If you have genealogical question here is an information page to help you.