Main Page
From Asylum Projects
Welcome to Asylum Projects,

A historic asylum wiki anyone can edit.

2,334

articles and counting

We need your help!
Click here to see current and past preservation alerts and how you can help.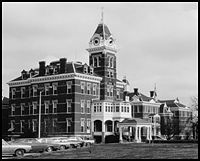 The Mission
The mission of this site is to archive both historical and current information on asylums across the United States and around the world.
The Statement
This site is dedicated to the history of asylums in all forms. The term of asylum is applied to not only what is commonly thought of: mental hospitals, but can also be applied to sanatoriums, state training schools, reform schools, almshouses, and orphanages. These institutions have and continue to play a major part in today's society.
Everyone throughout the United States and in many other countries has in one way or another felt the touch of these institutions. These places have both directly and indirectly affected people and their families. They have shaped lives and created many popular myths about them.
With all that in mind, this site was created to help in the historical research of any institutions that can be classified as an asylum. It was created for both serious researchers, those who are doing genealogical research, and people with an interest in asylums.
Featured Article Of The Week
Philadelphia State Hospital
In 1903, the Commonwealth of Pennsylvania enacted the "Bullitt Bill", which required each county to build an maintain a facility exclusively for the care of the insane of the area. Private facilities, such as those at Friends Hospital and the Institute of the Pennsylvania Hospital had existed for some time. Regional state facilities, like Norristown State Hospital, were active and standing, but were found to be overcrowded and unable to accommodate the growing need. In response to this, the City of Philadelphia purchased farmland in the northeast section of the county, in a rural district then known as Byberry. There, as a measure of expanding the public welfare, they established a city-funded, inmate run farm, known simply as "Byberry Farms". This facility was intended to supply food for other public institutions in the city, such as Eastern State Penitentiary and the Philadelphia Almshouse (then known as Old Blockley Almshouse). Shortly after the purchase of the land, six inmates from the overcrowded Blockley Almshouse in the city were chosen to work at the agricultural facility. This program was done in cooperation with the physicians at Blockley Almshouse, then headed by Dr. Jeffrey A. Jackson MD, and would thereafter become known as the "colony plan". The site of Byberry was originally intended for patients suffering from Consumption (Pulmonary Tuberculosis), who would be sent from Old Blockley, and thus free additional space for patients suffering from chronic and undifferentiated insanity. As it happens, this medical dogma coincides with the early 20th century perception that Consumption could be treated with "fresh air" and exercise. Click here for more...
Featured Image Of The Week
The Pennsylvania General Assembly authorized the creation of the
State Asylum for the Chronic Insane
on June 22, 1891. The facility was to be a public mental hospital for persons needing extended care. Courts were not permitted to make direct admissions to Wernersville; only patients who had at least one year of care at another state mental hospital were eligible for admission. This special role for Wernersville continued until 1923.
The following nine minute clip produced by S. Weber and entitled "Searching for the Lost Buildings of the Kings Park State Hospital" talks about the buildings that were razed on the Kings Park State Hospital campus during its operating years.
Recent Message Board Posts
Hello,
In this space you normally would see our forum. This had been a hold over from earlier days before we had a Facebook page. Just prior to our server issues regular users had been barely using the forum with the majority of new posts from anonymous users asking genealogy questions or spammers. The old forum software does not work with our new version while the new forum software does not carry over old comments to the new forum. As a result, the forum will be discontinued in favor of our Facebook page. If you have questions or comments you can ask them there.

Asylum Projects Facebook Page
If you have genealogical question here is an information page to help you.