Main Page
From Asylum Projects
Welcome to Asylum Projects,

A historic asylum wiki anyone can edit.

1,928

articles and counting

We need your help!
Click here to see current and past preservation alerts and how you can help.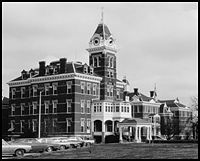 The Mission
The mission of this site is to archive both historical and current information on asylums across the United States and around the world.
The Statement
This site is dedicated to the history of asylums in all forms. The term of asylum is applied to not only what is commonly thought of: mental hospitals, but can also be applied to sanatoriums, state training schools, reform schools, almshouses, and orphanages. These institutions have and continue to play a major part in today's society.
Everyone throughout the United States and in many other countries has in one way or another felt the touch of these institutions. These places have both directly and indirectly affected people and their families. They have shaped lives and created many popular myths about them.
With all that in mind, this site was created to help in the historical research of any institutions that can be classified as an asylum. It was created for both serious researchers, those who are doing genealogical research, and people with an interest in asylums.
Featured Article Of The Week

Parramatta Lunatic Asylum

On 28 December 1849 a notice was published, stating that a portion of the Invalid Establishment at Parramatta had been appointed a public asylum for the reception and custody of lunatics.

The Convict, Lunatic, and Invalid Establishment had replaced the Female Factory when it closed at the end of 1847, leaving only invalid or insane inmates still resident. Personnel were appointed to staff the institution on 1 April 1848 , and although separate personnel lists were published for the Convict, Lunatic, and Invalid Establishment, and for the Lunatic Asylum, Parramatta from 1850, the same senior administrative and medical staff were listed as appointed to identical positions in both institutions. In personnel lists for 1856 a list for Lunatic Asylums, Parramatta appears but the Convict, Lunatic, and Invalid Establishment is no longer listed as a separate institution.

From the outset, Parramatta Lunatic Asylum consisted of a free, and a criminally insane division, with separate registers kept for persons admitted into each. On 31 December 1873 Parramatta Lunatic Asylum contained 704 free patients, 45 criminal patients (confined under the provisions of the Criminal Lunacy Act 1860), and 36 convict patients (accommodated within the free division, but as British convicts maintained at the charge of the Imperial Treasury). Only female criminally insane patients were committed after 1958, with facilities for male forensic patients closed in June 1958 and all remaining male patients transferred to a new maximum security unit at Morisset Hospital. Click here for more...

Featured Image Of The Week

The center building

serves to divide the sexes. The longitudinal divisions are the wards proper, consisting of a central corridor with rooms on each side, each room occupied by a single patient, and belonging to him exclusively. These rooms vary in size from nine by twelve feet, to eleven feet eight inches by twelve feet eight inches, the larger size predominating, and the clear space between floor and ceiling is in every case thirteen feet.

The following sixth-eight minute documentary entitled "If these walls could talk stories behind Toronto's psychiatric patient built wall" is about the

Queen Street Mental Health Centre

. It was created by Toronto filmmakers Naomi Berlyne and Sibyl Likely.
Asylum News   (news you can edit!)
January 27, 2014 A kinder approach: Former Allentown State Hospital CEO is recognized for reducing restraint tactics

The former CEO walks on the roof of the Allentown State Hospital. He is armed with his high-definition camera and decades of memories to provide context to what he sees. Each step on the roof frames a new perspective of the hospital he helped to transform. The rooms in the former psychiatric center are empty. It has been three years since the hospital closed. For Greg Smith, it is easy to reminisce. He can fill in the blanks, but there aren't many signs of what used to happen at the 100-year-old campus.
January 27, 2014 Taunton State Hospital again faces closure

The state's plan to close the inpatient unit at Taunton State Hospital reflects a philosophical shift that emphasizes community-based services over institutional care, a mental health official said Friday. For the third straight year, the state is proposing to move all inpatient beds from Taunton State Hospital to the new Worcester Recovery Center. In each of the past two years, the state faced staunch local opposition. As a compromise struck in the Legislature, 45 beds currently remain at Taunton State, which used to have about 170.