Main Page
From Asylum Projects
Welcome to Asylum Projects,

A historic asylum wiki anyone can edit.

2,304

articles and counting

We need your help!
Click here to see current and past preservation alerts and how you can help.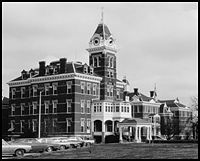 The Mission
The mission of this site is to archive both historical and current information on asylums across the United States and around the world.
The Statement
This site is dedicated to the history of asylums in all forms. The term of asylum is applied to not only what is commonly thought of: mental hospitals, but can also be applied to sanatoriums, state training schools, reform schools, almshouses, and orphanages. These institutions have and continue to play a major part in today's society.
Everyone throughout the United States and in many other countries has in one way or another felt the touch of these institutions. These places have both directly and indirectly affected people and their families. They have shaped lives and created many popular myths about them.
With all that in mind, this site was created to help in the historical research of any institutions that can be classified as an asylum. It was created for both serious researchers, those who are doing genealogical research, and people with an interest in asylums.
Featured Article Of The Week
Yankton State Hospital
The completion of the railway into Yankton in 1873 gave added impetus to immigration and by 1878 the effect of the gold rush was reflected in the number of Dakota patients at St. Peter Hospital, totaling 22. Governor William A. Howard was advised in June by Minnesota that no more patients could be accepted after July 1 because of crowded conditions at that hospital and all Dakota patients would have to be removed by October 1, 1878.
The Governor contacted Iowa hospitals without success, then traveled to Lincoln, Nebraska, and found that institution overcrowded but by completing some unfinished rooms, accommodations were arranged for five patients until the following February. Another contract with Minnesota resulted in an extension until February 1, 1879, for removal of the patients from St. Peter.
Governor Howard searched for a building to be used for a hospital in nearby towns of Vermillion, Elk Point and Canton with no success. In Yankton, he found two large wooden buildings--one belonging to the city and one to the Territory that were built to house German-Russian immigrants. The Governor secured the buildings and arranged to have them rebuilt on school lands north of Yankton at personal expense, a total of $2,286.85. The thirteenth session of the Dakota Territory Legislature met on January 14, 1879, and in the Governor's message he advised the lawmakers of his action and the necessary laws were passed. Click here for more...
Featured Image Of The Week
The
South Dakota Developmental Center
was established by the state legislature in 1899. The facility opened in February 1902 as the Northern Hospital for the Insane with 45 people in a three story building made of Sioux Falls granite. All direct contact staff as well as administrative staff lived there. All legislation concerning establishment, admissions, and support indicates that these facilities were not intended to be used by people who had mental illness, but for those persons who had a developmental disability. In 1913, the name was changed to State School and Home for the Feeble Minded. It became known as The Redfield State Hospital and School in 1951 and in 1989 we took our current name.
Recent Message Board Posts
Hello,
In this space you normally would see our forum. This had been a hold over from earlier days before we had a Facebook page. Just prior to our server issues regular users had been barely using the forum with the majority of new posts from anonymous users asking genealogy questions or spammers. The old forum software does not work with our new version while the new forum software does not carry over old comments to the new forum. As a result, the forum will be discontinued in favor of our Facebook page. If you have questions or comments you can ask them there.

Asylum Projects Facebook Page
If you have genealogical question here is an information page to help you.