Main Page
From Asylum Projects
Welcome to Asylum Projects,

A historic asylum wiki anyone can edit.

2,118

articles and counting

We need your help!
Click here to see current and past preservation alerts and how you can help.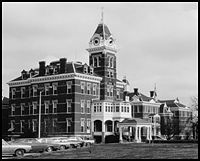 The Mission
The mission of this site is to archive both historical and current information on asylums across the United States and around the world.
The Statement
This site is dedicated to the history of asylums in all forms. The term of asylum is applied to not only what is commonly thought of: mental hospitals, but can also be applied to sanatoriums, state training schools, reform schools, almshouses, and orphanages. These institutions have and continue to play a major part in today's society.
Everyone throughout the United States and in many other countries has in one way or another felt the touch of these institutions. These places have both directly and indirectly affected people and their families. They have shaped lives and created many popular myths about them.
With all that in mind, this site was created to help in the historical research of any institutions that can be classified as an asylum. It was created for both serious researchers, those who are doing genealogical research, and people with an interest in asylums.
Featured Article Of The Week
Riverview Hospital
In 1872, Royal Hospital in Victoria was converted to British Columbia's first facility to house mentally ill patients. Due to overcrowding, Royal Hospital was closed and the patients moved to the new Provincial Asylum for the Insane in 1878. Again facing problems of overcrowding at the turn of the century, in 1904 the provincial government purchased 1,000 acres in then-rural Coquitlam for the construction of Riverview Hospital and the adjacent Colony Farm lands.
Patients were originally housed in temporary buildings, and in 1913 the building that would eventually be called West Lawn began treating the 300 most seriously ill male patients. By this time, Colony Farm was producing over 700 tons of crops and 20,000 gallons of milk in a year, using mostly patient labor. British Columbia's first Provincial Botanist, John Davidson, established an arboretum, nursery and a botanical garden on the hospital lands, often with the assistance of patients as there was a belief in the therapeutic value.[3] The botanical garden was moved to the new University of British Columbia in 1916, but the arboretum and nursery remained.
In 1924, the Acute Psychopathic Unit, later called Centre Lawn, opened. Then in 1930, the 675-bed Female Chronic Unit (later called East Lawn) opened. The first phase of what would eventually be called the Crease Clinic, the Veteran's Unit opened in 1934, with the second phase opened in 1949, giving Riverview its most iconic building. Finally in 1955, the Tuberculosis Unit (now called North Lawn) opened, marking the peak of patient residence. Click here for more...
Featured Image Of The Week
"Tranquille"
, also referred to as Padova City, was the "King Edward VII Tuberculosis Sanatorium". The area itself was named "Tranquille" after the Indian Chief "Sanquil". Tuberculosis or consumption or the white plague, was an epidemic at turn-of-the-century. The land just outside Kamloops city limits, where the North and South Thompson meet and flow into Kamloops Lake, was purchased in 1905 and the tuberculosis hospital began taking patients by 1907. The site is approximately 191 acres and by the 1950s had at least 40 buildings. Tranquille was operated as a tuberculosis sanatorium from its inception until 1958 when it was closed.
The following is a 30 minute video production using VHS recordings filmed by NSH police officer Dave Williams when Norwich State Hospital closed in October 1996. Produced at Comcast Public Access studio, Norwich, CT. It was uploaded to YouTube by Steven DePolito.
Recent Message Board Posts
Hello,
In this space you normally would see our forum. This had been a hold over from earlier days before we had a Facebook page. Just prior to our server issues regular users had been barely using the forum with the majority of new posts from anonymous users asking genealogy questions or spammers. The old forum software does not work with our new version while the new forum software does not carry over old comments to the new forum. As a result, the forum will be discontinued in favor of our Facebook page. If you have questions or comments you can ask them there.

Asylum Projects Facebook Page
If you have genealogical question here is an information page to help you.