Main Page
From Asylum Projects
Welcome to Asylum Projects,

A historic asylum wiki anyone can edit.

1,993

articles and counting

We need your help!
Click here to see current and past preservation alerts and how you can help.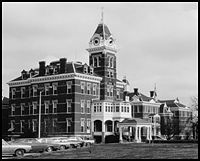 The Mission
The mission of this site is to archive both historical and current information on asylums across the United States and around the world.
The Statement
This site is dedicated to the history of asylums in all forms. The term of asylum is applied to not only what is commonly thought of: mental hospitals, but can also be applied to sanatoriums, state training schools, reform schools, almshouses, and orphanages. These institutions have and continue to play a major part in today's society.
Everyone throughout the United States and in many other countries has in one way or another felt the touch of these institutions. These places have both directly and indirectly affected people and their families. They have shaped lives and created many popular myths about them.
With all that in mind, this site was created to help in the historical research of any institutions that can be classified as an asylum. It was created for both serious researchers, those who are doing genealogical research, and people with an interest in asylums.
Featured Article Of The Week

Lincoln State Hospital

This institution is located at Lincoln. As early as 1865, it was found necessary to make provision for the insane in the Territory of Nebraska. Four cases were already being cared for in an Iowa hospital. The legislature authorized the governor to make some arrangement with the State of Iowa, by which they received and cared for the insane at the expense of Nebraska. Under this arrangement fifty patients were sent at various times to the hospital at Mount Pleasant. Soon after Nebraska became a State the governor, secretary of State and auditor of public accounts were appointed a board of commissioners to locate a site for a State lunatic asylum near the city of Lincoln. The first building was completed at a cost of $137,000 in the fall of 1870, and the first patient was admitted November 26th of that year. Early in the following December, seventeen patients were brought over from Mount Pleasant to the new institution, and four were admitted who had been confined in the Pawnee county jail. Dr. N. B. Larsh was the first superintendent.

In April, 1871, the institution was destroyed by fire. Five patients were reported missing and were never afterwards accounted for. The remaining patients were taken to Lincoln and cared for in rented houses until a temporary building was erected on the asylum grounds. As there was no appropriation available, and the citizens of Lincoln were fearful lest the institution should be removed to some rival city, they advanced the funds necessary to build a temporary frame structure, which did service as a hospital until a new stone building was erected the following year. Click here for more...

Featured Image Of The Week

The hospital

was established under Act No. 210,Public Acts of 1893. It appropriated funds for only 2 cottages & 1 industrial building. The first patients were received November, 1895. Plans for a completed institution were prepared and closely adhered to. They provided for 20 buildings arranged in a quadrangle, 17 designed for care and reception of patients, 1 as an administration building, another as an assembly hall and the other as a kitchen/dining hall.

The following twenty-seven minute 1980's slide show of Kings Park State Hospital was compiled by S. Weber and the Kings Park Heritage Museum with music from Andrew Fortier.
Asylum News   (news you can edit!)