Main Page
From Asylum Projects
Welcome to Asylum Projects,

A historic asylum wiki anyone can edit.

2,019

articles and counting

We need your help!
Click here to see current and past preservation alerts and how you can help.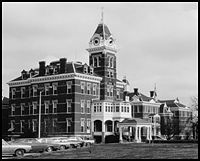 The Mission
The mission of this site is to archive both historical and current information on asylums across the United States and around the world.
The Statement
This site is dedicated to the history of asylums in all forms. The term of asylum is applied to not only what is commonly thought of: mental hospitals, but can also be applied to sanatoriums, state training schools, reform schools, almshouses, and orphanages. These institutions have and continue to play a major part in today's society.
Everyone throughout the United States and in many other countries has in one way or another felt the touch of these institutions. These places have both directly and indirectly affected people and their families. They have shaped lives and created many popular myths about them.
With all that in mind, this site was created to help in the historical research of any institutions that can be classified as an asylum. It was created for both serious researchers, those who are doing genealogical research, and people with an interest in asylums.
Featured Article Of The Week

Bryce Hospital

The planning for a state hospital for the mentally ill in Alabama began in 1852. The new facility was planned from the start to utilize the "moral architecture" concepts of 1850's activists Thomas Kirkbride and Dorothea Dix. Architect Samuel Sloan designed the imposing Italianate building after Kirkbride's model plan. The construction was an important source of employment in Reconstruction-era Tuscaloosa. The facility was added to the National Register of Historic Places in 1977. Bryce Hospital Alabama NH02.jpg

Dix's reformist ideas, in particular, are credited as the driving force behind the construction of the "Alabama Insane Hospital," which was later renamed for its first superintendent, Peter Bryce, a 27-year-old psychiatric pioneer from South Carolina. His tenure was marked by absolute discipline among the staff of the hospital. He demanded that patients be given courtesy, kindness and respect at all times. The use of shackles, straitjackets and other restraints was discouraged, and finally abandoned altogether in 1882. Various work programs and other activities were encouraged, including farming, sewing, maintenance and crafts. Between 1872 and the early 1880s, some of the patients wrote and edited their own newspaper, called The Meteor. These writings provide a rare inside look at life in a progressive mental institution in the late 19th century. At that time, Bryce's management and commitment to "scientific treatments" was recognized around the country as in a class of its own. Click here for more...

Featured Image Of The Week

In 1883, when word was circulated that the State of Texas was seeking a location for a

second major mental facility

and that it would be located in Northeast Texas, the competition among cities must have been quite similar to the quest for industry and other major developments that exist today.
Asylum News   (news you can edit!)