Main Page
From Asylum Projects
Welcome to Asylum Projects,

A historic asylum wiki anyone can edit.

2,217

articles and counting

We need your help!
Click here to see current and past preservation alerts and how you can help.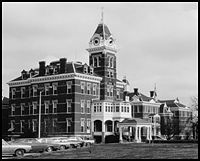 The Mission
The mission of this site is to archive both historical and current information on asylums across the United States and around the world.
The Statement
This site is dedicated to the history of asylums in all forms. The term of asylum is applied to not only what is commonly thought of: mental hospitals, but can also be applied to sanatoriums, state training schools, reform schools, almshouses, and orphanages. These institutions have and continue to play a major part in today's society.
Everyone throughout the United States and in many other countries has in one way or another felt the touch of these institutions. These places have both directly and indirectly affected people and their families. They have shaped lives and created many popular myths about them.
With all that in mind, this site was created to help in the historical research of any institutions that can be classified as an asylum. It was created for both serious researchers, those who are doing genealogical research, and people with an interest in asylums.
Featured Article Of The Week
Clarinda State Hospital
The Clarinda Treatment Complex was built in 1884 as the Clarinda State Hospital in Clarinda, Iowa of southwest Iowa. It was the third asylum in the state of Iowa and remains in operation today. The original plan for patients was to hold alcoholics, geriatrics, drug addicts, mentally ill, and the criminally insane. An act of the Twentieth General Assembly of the State of Iowa, chapter 201, authorized the appropriation of $150,000 for the purpose of establishing an additional hospital for the insane. The act went into effect April 23, 1884, and provided that the Governor should select three commissioners, with power to locate the site for the hospital somewhere in Southwestern Iowa.
The act provided that not less than 320 acres of land should be purchased in the name of the state, so selected as to insure an abundant supply of good, pure water and to be susceptible of proper and efficient drainage. It was also provided that no gratuity or donation should be offered or received from any place as an inducement for its location; that the commissioners should, as soon as the location was fixed, secure and adopt plans and specifications and estimates for the buildings to be erected. All buildings to be fireproof, the exterior plain and of brick, to be built on the cottage plan; the board to invite bids after publication for 30 days in Des Moines newspapers; the contract to be let to the lowest bidder complying with the requirements of the commissioners. They were to employ a competent architect and superintendent of construction, appoint a secretary and keep accurate minutes of their doings. Click here for more...
Featured Image Of The Week
The
Cherokee State Hospital
is a psychiatric hospital located in Cherokee Iowa. It is currently the fourth and last institution to be built in Iowa. It is still in operation with a special treatment program for drug addicts and alcoholics. It is preserved to look like it did when it first opened. This hospital was the last of the four state mental hospitals to be built in Iowa and the only one where the main building, a connected complex in Kirkbride plan, was fully completed before the hospital was opened to patients.
The following nearly thirty minute video on Glenwood State School created by Ray Stewart of WOI-TV Ames, Iowa along with Iowa State University. It is part of the "In Our Care," a 13 week series of documentaries filmed inside Iowa's state institutions. The series won the 1952 National Sylvania Television Award for Production Excellence. The Minnesota Governor's Council on Developmental Disabilities is responsible for uploading it to YouTube.
Recent Message Board Posts
Hello,
In this space you normally would see our forum. This had been a hold over from earlier days before we had a Facebook page. Just prior to our server issues regular users had been barely using the forum with the majority of new posts from anonymous users asking genealogy questions or spammers. The old forum software does not work with our new version while the new forum software does not carry over old comments to the new forum. As a result, the forum will be discontinued in favor of our Facebook page. If you have questions or comments you can ask them there.

Asylum Projects Facebook Page
If you have genealogical question here is an information page to help you.