Main Page
From Asylum Projects
Welcome to Asylum Projects,

A historic asylum wiki anyone can edit.

2,027

articles and counting

We need your help!
Click here to see current and past preservation alerts and how you can help.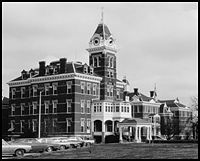 The Mission
The mission of this site is to archive both historical and current information on asylums across the United States and around the world.
The Statement
This site is dedicated to the history of asylums in all forms. The term of asylum is applied to not only what is commonly thought of: mental hospitals, but can also be applied to sanatoriums, state training schools, reform schools, almshouses, and orphanages. These institutions have and continue to play a major part in today's society.
Everyone throughout the United States and in many other countries has in one way or another felt the touch of these institutions. These places have both directly and indirectly affected people and their families. They have shaped lives and created many popular myths about them.
With all that in mind, this site was created to help in the historical research of any institutions that can be classified as an asylum. It was created for both serious researchers, those who are doing genealogical research, and people with an interest in asylums.
Featured Article Of The Week

Bolivar State Hospital

Western State Mental Hospital, located near Bolivar, was the last state mental hospital to be constructed and habitually the one least funded. In December 1885 the site commissioners chose the farm of Paul T. Jones as the location for the proposed facility.

The institution's patient population grew from a few hundred in the 1890s to over 2,000 in the 1960s as patients remained hospitalized for decades. Many were crowded into large dormitories and had little privacy. With a limited number of doctors and attendants and a large patient population, many were simply "warehoused."

Patients at Western received the treatments available in their period of institutionalization. These treatments ranged from hydrotherapy and insulin shock therapy to lobotomies and electric shock therapy. With the severe staff limitations, however, patients were fortunate to receive ten minutes per week with a psychiatrist.

The system for securing financing for patient care limited the operating budget. In Tennessee, there were three classes of patients: the state-pay patients, the county-pay patients, and the private-pay patients. State agencies agreed to pay for one patient out of a population of one thousand. Once this portion of the payment had been satisfied, the county was responsible for additional costs. The county payments consistently lagged behind, and superintendents had to engage in deficit spending to keep the hospital operating. The two most influential superintendents, Dr. Edwin Cocke and Dr. Edwin Levy, often faced political pressure from state officials, but both managed to make some improvements in the care offered at Western. Click here for more...

Featured Image Of The Week

The State Reform School for Boys

, later named the State School for Boys, was established in 1853 "for the instruction, employment, and reform of juvenile offenders" ages 8 to 16. Residents were put to farming and brick making in an effort to make them useful and productive citizens.

The following fifteen minute video was created by Inside Story and Andrea Hall on the closing of Danvers State Hospital.
Asylum News   (news you can edit!)