Main Page
From Asylum Projects
Welcome to Asylum Projects,

A historic asylum wiki anyone can edit.

2,046

articles and counting

We need your help!
Click here to see current and past preservation alerts and how you can help.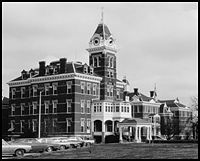 The Mission
The mission of this site is to archive both historical and current information on asylums across the United States and around the world.
The Statement
This site is dedicated to the history of asylums in all forms. The term of asylum is applied to not only what is commonly thought of: mental hospitals, but can also be applied to sanatoriums, state training schools, reform schools, almshouses, and orphanages. These institutions have and continue to play a major part in today's society.
Everyone throughout the United States and in many other countries has in one way or another felt the touch of these institutions. These places have both directly and indirectly affected people and their families. They have shaped lives and created many popular myths about them.
With all that in mind, this site was created to help in the historical research of any institutions that can be classified as an asylum. It was created for both serious researchers, those who are doing genealogical research, and people with an interest in asylums.
Featured Article Of The Week

Berkshire Hills Sanitarium

The Berkshire Hills Sanitarium was founded in 1877 by Dr. W. E. Brown and Son in North Adams, Massachusetts. The large, single building facility was founded as a specialized treatment center for cancer.

As a youth, Dr. William E. Brown experienced the removal of a cancerous growth on his palate. It was removed surgically, which proved unsuccessful, and after a second surgery, Brown's entire palate was removed. He studied dentistry, and opened his first clinic in 1854 in North Adams, MA. His son, Wallace E. Brown, joined his practice in 1878 at the age of 12. The practice moved its well known building on North and Veazie Streets. The practice's national advertising campaign resulted in a large increase in business, and a large addition was built onto the sanitarium. The structure was five stories "with sun parlors on every floor plus a six story observation tower, it contained offices, treatment rooms, a pharmacy, two dining rooms (a large one for most patients and a smaller one for those with facial tumors), a laundry, a kitchen with a thirty foot range and forty suites of guest rooms. It had an electric intercom system, electric lights, a passenger elevator and another for freight. It stretched from the corner of Veazie Street most of the way west to Williams Street, and then extended south, parallel to both streets."

After 31 years of establishment, the Berkshire Hills Sanitarium was a successful institute. There were several of its kind in the United States, and methods for cancer treatment were consistent among the facilities. Dr. Wallace E. Brown, of Berkshire Hills, boasted cancer treatment "without resorting to surgical procedure," in reference to the Nichol Escharotic Method. Perry Lewis Nichols, M.D., of the Dr. Nichols Sanatorium, founded a new method for cancer lesion therapy at his facility in Savannah, Missouri, in 1914. Click here for more...

Featured Image Of The Week

Pennsylvania Hospital

was founded, in what is now Southeastern Philadelphia, on May 11, 1751 by founding father Benjamin Franklin and Thomas Bond, as the first medical hospital in the United States of America. New York Hospital in Manhattan would take the honor of being the second of such hospitals. Pennsylvania Hospital, also known as "Pennsy" locally, continues to treat both somatic medical conditions as well as an array of psychiatric disorders.
Asylum News   (news you can edit!)