Main Page
From Asylum Projects
Welcome to Asylum Projects,

A historic asylum wiki anyone can edit.

2,110

articles and counting

We need your help!
Click here to see current and past preservation alerts and how you can help.
Mission Statement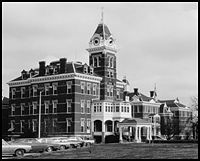 The Mission
The mission of this site is to archive both historical and current information on asylums across the United States and around the world.
The Statement
This site is dedicated to the history of asylums in all forms. The term of asylum is applied to not only what is commonly thought of: mental hospitals, but can also be applied to sanatoriums, state training schools, reform schools, almshouses, and orphanages. These institutions have and continue to play a major part in today's society.
Everyone throughout the United States and in many other countries has in one way or another felt the touch of these institutions. These places have both directly and indirectly affected people and their families. They have shaped lives and created many popular myths about them.
With all that in mind, this site was created to help in the historical research of any institutions that can be classified as an asylum. It was created for both serious researchers, those who are doing genealogical research, and people with an interest in asylums.
Featured Article Of The Week
Dixmont State Hospital
The Western Pennsylvania Hospital was founded in Pittsburgh in 1848 as a general hospital that treated all types of illnesses and became the first institution in western Pennsylvania to offer treatment for the insane. When the Insane Department of the Western Pennsylvania Hospital was moved to a new building in Kilbuck Township outside of Pittsburgh in 1862 it was renamed the Western Pennsylvania Hospital for the Insane at Dixmont to honor the memory of Dorothea Dix, an advocate for reforming the treatment of mental patients. The Dixmont Hospital was legally separated from the Western Pennsylvania Hospital in 1907 when it was individually incorporated as the Dixmont Hospital for the Insane. Supported by private contributions since 1852, it was primarily state appropriations that enabled the hospital to expand its facilities and care for an increasing number of mentally ill persons over the first nine decades of its existence. Despite receiving state appropriations, it nonetheless continued to operate as a private corporation until 1945 when it was taken over by the Department of Public Welfare. From that date, it operated under the name Dixmont State Hospital until it closed in July 1984.
The Western Pennsylvania Hospital was one of the earlier asylums built on the Kirkbride plan, with three crooked wings stretching to each side of administration; one wing for male and the other for female patients. By the end of the 1800's, the resident population grew to over 1,200 and a nursing school was established in 1895. As with most asylums, Dixmont became overcrowded to the point that it was not accepting new admissions. During the Great Depression, the hospital tried to sustain itself by paying employees only with room and board, not salaries, and sold any crafts made by patients for extra income. By 1946, the state had to step in, and the institution became known as Dixmont State Hospital. Click here for more...
Featured Image Of The Week
The plan adopted by this commission
, devised by John Mc Arthur, Jr., of Philadelphia, was the so-called Kirkbride system of connected wings, with a central administration building, 1143 feet in length, three stories in height, with three transverse wings on each side four stories in height, giving a capacity of 350 beds for each and accommodation for the necessary employees. The outer walls were constructed of stone procured from a quarry adjoining the property, stuccoed without, hand trowelled lime finish within, **ith brick partitions, hard-wood finish of Georgia pine, and slate roof, the construction being of the so-called slow-burning type. The building was fronted by a lawn of 45 acres, eventually laid out by Donald G. Mitchell, and, being on a slight eminence, overlooked the Susquehanna, which latter supplied the water and received the sewage.
Featured Video
Recent Message Board Posts
Hello,
In this space you normally would see our forum. This had been a hold over from earlier days before we had a Facebook page. Just prior to our server issues regular users had been barely using the forum with the majority of new posts from anonymous users asking genealogy questions or spammers. The old forum software does not work with our new version while the new forum software does not carry over old comments to the new forum. As a result, the forum will be discontinued in favor of our Facebook page. If you have questions or comments you can ask them there.

Asylum Projects Facebook Page
If you have genealogical question here is an information page to help you.