Main Page
From Asylum Projects
__NOTITLE__
Welcome to Asylum Projects,

A historic asylum wiki anyone can edit.

2,192

articles and counting

We need your help!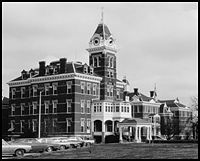 The Mission
The mission of this site is to archive both historical and current information on asylums across the United States and around the world.
The Statement
This site is dedicated to the history of asylums in all forms. The term of asylum is applied to not only what is commonly thought of: mental hospitals, but can also be applied to sanatoriums, state training schools, reform schools, almshouses, and orphanages. These institutions have and continue to play a major part in today's society.
Everyone throughout the United States and in many other countries has in one way or another felt the touch of these institutions. These places have both directly and indirectly affected people and their families. They have shaped lives and created many popular myths about them.
With all that in mind, this site was created to help in the historical research of any institutions that can be classified as an asylum. It was created for both serious researchers, those who are doing genealogical research, and people with an interest in asylums.
Featured Article Of The Week

Buffalo State Hospital

The Henry Hobson Richardson Complex, or the Buffalo State Asylum for the Insane, as it was originally called, started construction in 1870 and was completed almost 20 years later. It was a state-of-the-art facility when it was built, incorporating the most modern ideas in psychiatric treatment. The design of the buildings as well as the restorative grounds, designed by famed landscape designer Frederick Law Olmsted, were intended to complement the innovations in psychiatric care practiced at this facility.

At the time Richardson was commissioned to design the complex he was still relatively unknown, but he was later to become the first American architect to achieve international fame. The complex was ultimately the largest building of his career and the first to display his characteristic style - what came to be known as Richardsonian Romanesque – and is internationally regarded as one of the best examples of its kind. Among many others, his genius also yielded the New York State Capital, the Albany City Hall, Trinity Church in Boston, and the Glessner House in Chicago.

The complex and grounds were originally built on 203 acres of largely undeveloped farmland. The V-shaped design consisted of the central tower building with five buildings flanking on each side, connected by curved corridors, branching out in a "flock of geese" formation. This design was representative of what was then known as the Kirkbride system, named after the physician who developed it. As a stage of development in the classification and treatment of mental illnesses, Kirkbride's system was designed with a central administration building flanked by patient wards in a V-formation. This enabled patients to be gathered according to the type and level of their illness. Rooms were arranged along both sides of the corridor and the buildings were designed for maximum light, ventilation, and privacy, and a home like atmosphere. Click here for more...

Featured Image Of The Week

Connected by a gangplank, Island No. 2

was separated by 200 feet of water from the original island and home to the new General Hospital. It opened in 1902, with 120 beds making it larger then most of the city hospitals at the time, and would eventually expand to 275 beds. The hospital included four operating rooms, a delivery room, and a morgue. A psychopathic pavilion was built after two mentally ill patients committed suicide in the general hospital. The pavilion was incorporated to house "idiots, imbeciles, feeble-minded persons, insane persons, and epileptics."

Recent Message Board Posts

Hello,

In this space you normally would see our forum. This had been a hold over from earlier days before we had a Facebook page. Just prior to our server issues regular users had been barely using the forum with the majority of new posts from anonymous users asking genealogy questions or spammers. The old forum software does not work with our new version while the new forum software does not carry over old comments to the new forum. As a result, the forum will be discontinued in favor of our Facebook page. If you have questions or comments you can ask them there.

Asylum Projects Facebook Page
If you have genealogical question here is an information page to help you.

<calendar name="Upcoming Events" disablestyles disableaddevent/>
The following film was found at Wayne County Training School in the 1990's by a Canton High School Student. It was digitized by the Northville Historic Commission and uploaded to Youtube by Northville Tunnels.
Asylum News   (news you can edit!)