Portal:Featured Article Of The Week
From Asylum Projects
Featured Article Of The Week
Eastern Washington State Hospital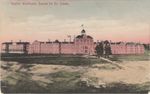 The great distance in transporting patients to the Western Hospital for the Insane at Fort Steilacoom, which is situated in the extreme western part of the state, led to the erection of the Eastern State Hospital.
The first buildings were erected in 1890 and consisted of a central administration building, with a wing on each side and a rear wing for the kitchen, engine room and laundry. The entire plant was made of brick, with a granite foundation, lathed and plastered inside. Each wing was three stories high and accommodated 150 patients. The buildings were of the old Kirkbride plan. The building commissioners were D. M. Drumheller, B. B. Glasscock and Stanley Hallett. The first Board of Trustees, consisting of D. F. Percival, Dr. Wilson Lockhart and Charles McDouall, were appointed in 1890. In 1892 W. J. Dwyer was appointed in place of Dr. Wilson Lockhart, whose term had expired. This local board continued in office until 1897, when it was abolished and the State Board of Audit and Control assumed power.
In May, 1891, 20 patients were received from the Western Washington Hospital and in July, the same year, 102 more. These patients had been committed from counties east of the Cascade Mountains, the territory which thereafter was designated as the district especially belonging to this hospital. As the patient population quickly rose additional room became necessary. A second wing was erected for men in 1894. It was, like the two original wings, three stories high and accommodated 150 patients. While not fireproof, it was an improvement over the older wings, having all partitions made of brick and tile, with hard plaster finish. It had no rooms or dormitories in the front of the building, so the wards were exceedingly well lighted. The flooring was of maple and each ward had two fireplaces—one at each end. Click here for more...