Main Page
From Asylum Projects
Welcome to Asylum Projects,

A historic asylum wiki anyone can edit.

2,296

articles and counting

We need your help!
Click here to see current and past preservation alerts and how you can help.
The Mission
The mission of this site is to archive both historical and current information on asylums across the United States and around the world.
The Statement
This site is dedicated to the history of asylums in all forms. The term of asylum is applied to not only what is commonly thought of: mental hospitals, but can also be applied to sanatoriums, state training schools, reform schools, almshouses, and orphanages. These institutions have and continue to play a major part in today's society.
Everyone throughout the United States and in many other countries has in one way or another felt the touch of these institutions. These places have both directly and indirectly affected people and their families. They have shaped lives and created many popular myths about them.
With all that in mind, this site was created to help in the historical research of any institutions that can be classified as an asylum. It was created for both serious researchers, those who are doing genealogical research, and people with an interest in asylums.
Featured Article Of The Week
Napa State Hospital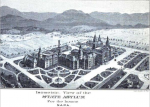 In 1872, a site was selected and work began for the erection of the 500-bed, four-story, Gothic-style hospital building. The hospital originated due to overcrowded conditions at the Stockton Asylum, the first State Hospital. The doors of the unfinished entrance of Napa State Hospital opened on Monday, November 15, 1875, to the first individuals, two San Franciscans.
Initially, 192 acres of land were purchased for $11,506 from Don Cayetano Juarez. These acres were part of the Mexican Land Grant, Rancho Tulocay, received from General Mariano Vallejo. Additional land was acquired over the years bringing the total to over 2,000 acres. The land extended from a wharf on the Napa River to the eastern edge of Skyline Park, allowing for the development of dairy and poultry ranches, vegetable gardens, orchards and other farming operations necessary to make the hospital as self-sufficient as possible. Farming operations ceased in the late 1960's. Napa Valley College, Kennedy Park and Skyline Wilderness Park now occupy most of this land.
The population peaked in 1960 with over 5,000 individuals in residence and then steadily declined with the arrival of psychotropic medications and the development of county based programs. Treatment programs for developmentally disabled residents were operant from October 1968, to August 1987, and from October 1995, to March 2001. Click here for more...
Featured Image Of The Week
Constructed as the
Insane Asylum of California at Stockton
in 1853, the complex was situated on 100 acres (0.40 km2) of land donated by Captain Weber. The legislature at the time felt that existing hospitals were incapable of caring for the large numbers of people who suffered from mental and emotional conditions as a result of the Gold Rush, and authorized the creation of the first public mental health hospital in California. The hospital is one of the oldest in the west, and was notable for its progressive forms of treatment. The hospital is #1016 on the Office of Historic Preservation's California Historical Landmark list, and today is home to California State University Stanislaus.
The following is a forty minute video documenting the history of Camarillo State Hospital that had been created by the California Department of Developmental Services and was uploaded to youtube by PublicResources.org
Recent Message Board Posts
Hello,
In this space you normally would see our forum. This had been a hold over from earlier days before we had a Facebook page. Just prior to our server issues regular users had been barely using the forum with the majority of new posts from anonymous users asking genealogy questions or spammers. The old forum software does not work with our new version while the new forum software does not carry over old comments to the new forum. As a result, the forum will be discontinued in favor of our Facebook page. If you have questions or comments you can ask them there.

Asylum Projects Facebook Page
If you have genealogical question here is an information page to help you.