Main Page
From Asylum Projects
Welcome to Asylum Projects,

A historic asylum wiki anyone can edit.

2,246

articles and counting

We need your help!
Click here to see current and past preservation alerts and how you can help.
The Mission
The mission of this site is to archive both historical and current information on asylums across the United States and around the world.
The Statement
This site is dedicated to the history of asylums in all forms. The term of asylum is applied to not only what is commonly thought of: mental hospitals, but can also be applied to sanatoriums, state training schools, reform schools, almshouses, and orphanages. These institutions have and continue to play a major part in today's society.
Everyone throughout the United States and in many other countries has in one way or another felt the touch of these institutions. These places have both directly and indirectly affected people and their families. They have shaped lives and created many popular myths about them.
With all that in mind, this site was created to help in the historical research of any institutions that can be classified as an asylum. It was created for both serious researchers, those who are doing genealogical research, and people with an interest in asylums.
Featured Article Of The Week
Eastern Washington State Hospital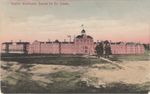 The great distance in transporting patients to the Western Hospital for the Insane at Fort Steilacoom, which is situated in the extreme western part of the state, led to the erection of the Eastern State Hospital.
The first buildings were erected in 1890 and consisted of a central administration building, with a wing on each side and a rear wing for the kitchen, engine room and laundry. The entire plant was made of brick, with a granite foundation, lathed and plastered inside. Each wing was three stories high and accommodated 150 patients. The buildings were of the old Kirkbride plan. The building commissioners were D. M. Drumheller, B. B. Glasscock and Stanley Hallett. The first Board of Trustees, consisting of D. F. Percival, Dr. Wilson Lockhart and Charles McDouall, were appointed in 1890. In 1892 W. J. Dwyer was appointed in place of Dr. Wilson Lockhart, whose term had expired. This local board continued in office until 1897, when it was abolished and the State Board of Audit and Control assumed power. Click here for more...
Featured Image Of The Week
The institution was established
in 1909 on a tract of land at Sedro-Woolley and was originally a farm for harmless patients under the direction of the superintendent of the Western Hospital at Fort Steilacoom. In 1911 the hospital was separated from the Western Hospital and quickly became the largest in the state. The new hospital opened April 1, 1911. Dr. A. H. McLeish was the first superintendent. He served until August 5, 1913 when he resigned and was succeeded by Dr. W. E. Cass. On February 1, 1914, Dr. Cass was succeeded by superintendent, Dr. J. W. Doughty, who was promoted from the position of first assistant physician at the Western Hospital for the Insane.
The following hour long film created by CBS in 1978 entitled "Anyplace But Here" follows a few people from their time in Creedmoor State Hospital to their discharge out into the community.
Recent Message Board Posts
Hello,
In this space you normally would see our forum. This had been a hold over from earlier days before we had a Facebook page. Just prior to our server issues regular users had been barely using the forum with the majority of new posts from anonymous users asking genealogy questions or spammers. The old forum software does not work with our new version while the new forum software does not carry over old comments to the new forum. As a result, the forum will be discontinued in favor of our Facebook page. If you have questions or comments you can ask them there.

Asylum Projects Facebook Page
If you have genealogical question here is an information page to help you.